Exergy has done it again! For the second time this year the EXERGY Denizli Tosunlar ORC geothermal power plant received award as Top Plant among Renewable energy project
Olgiate Olona, 6 December 2016 - Exergy has done it again! For the second time this year the EXERGY Denizli Tosunlar ORC geothermal power plant received award as Top Plant in Renewable energy project category assigned by Power Magazine within their "Power Awards" competition. The prize has been announced and published in the December issue of the magazine. EXERGY conquered the stage for the leading-edge innovation represented by the world first geothermal power plant with 2-pressure-level cycle on a single-disk turbine installed in Denizli Tosunlar, Turkey, for the client Akca Enerji on June 2015. In February 2016 Exergy had won first place in European Geothermal Innovation Award assigned by the European Geothermal Energy Council for the world first innovation demonstrated in this geothermal plant.

A Jury composed of editors of Power Magazine selected Exergy's project among many others from all over the world. Criteria for the selection of the winners included projects in 4 categories (Natural gas-fired , Coal-fired, Nuclear, Renewable projects) that distinguished themselves by innovative design or engineering upgrades, for producing power more reliably or economically than comparable plants, or demonstrating a new generation or environmental controls technology.
Claudio Spadacini, EXERGY CEO, commented on this repeated recognition for the Akca Enerji plant: "We are very proud to have received a second award this year for our Denizli Tosunlar power plant. This repeated recognition gives evidence of the technological breakthrough this plant represents and rewards the commitment and the effort that EXERGY put into R&D activities to keep us at the forefront of innovation by achieving new, smarter and more efficient applications of our technology. We are constantly working on further advances in technology for the ORC market in order continue to evolve and sustain clean power generation"
For over four decades, Power Magazine, one of the oldest and most trusted source of information for the power industry in U.S, has been honouring the top performers in the electricity-generating industry with their annual power plant awards.
EXERGY's PRESS CONTACT:
Sara Milanesi
Marketing & Communications Manager
Tel. +39 0331 1817620 - s.milanesi@exergy.it
Featured Product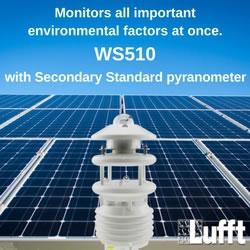 Professional weather sensors form the heart of large solar plants supporting their operation and performance. Lufft was the first manufacturer to combine several sensors in one housing, bringing the largest multiparameter weather sensor family with 19 members into being. Many of them are well-suited for solar site assessment and continuous monitoring. The most commonly used one is the WS600 delivering data on temperature, air pressure, wind, relative humidity and precipitation. Through its open protocol, it can easily be attached to radiation sensors e.g. from Kipp&Zonen. Other models have an integrated Silicon, Second Class or Secondary Standard radiation sensor.