SOLAR WORKSHOP INCLUDES CONTINENTAL BREAKFAST AND SOLAR ROOF TOUR AND WILL COVER THE FOLLOWING: *Information on the state of the solar industry, green jobs and environmental benefits *Maryland's progress in Solar adoption *Solar System costs, financial incentives and typical return on investment *How solar leases and PPAs work *Solar panel categories and grades *The basics about tax credits, earning "SREC's" and other available government incentives AND MUCH MORE! Regististration Required for Free Admission @ www.MySolarWorkshop.com
Solar Energy World, the fastest-growing, locally owned and operated Solar System Design and Installation Company in Maryland, is hosting a Free Solar 101 Workshop for Homeowners from the Baltimore/DC metro area on Saturday January 14, 2017 from 10:30 AM -12:30 PM at the headquarters in Elkridge, Maryland.

The workshop will address how the 2016 election results could impact the future of the solar industry in Maryland and will provide homeowners who have been considering going solar with all the latest trends and facts. Attendees will learn about the state of the solar industry in Maryland, current financial incentives available to them including solar grants, tax breaks and financing options and how going solar can save them 20-100% on electricity rates and generate rooftop revenue.
Solar Energy World is the only solar company in Maryland that runs its own facility on solar so attendees will also be treated to a tour of the company's solar electric system that was designed and installed by its own employees. A certified solar analyst will explain how the rooftop energy system produces electricity and how a similar, scaled down system can work for a home.
In addition, participants will enjoy a free continental breakfast of pastries, coffee and fruit and will receive a free information package. Space is limited - so registration is required by January 11, 2017 for free admission. To register and to view the agenda interested parties should go to www.MySolarWorkshop.com or call 888-485-1909.
ABOUT SOLAR ENERGY WORLD LLC
Founded in 2009, Solar Energy World is leading Maryland's green jobs growth having installed thousands of solar systems in the Maryland/DC metro area since its founding in 2009. The company is projected to double 2016's installations in 2017, now averaging 80-90 new installations a month. Solar Energy World is also one of the most experienced and stable solar companies in the Maryland region. Solar Energy World's parent companies are Gleeson Electric, a commercial electric company that has been in operation since 1958, and Homefix Corporation, a specialty green remodeling company that was founded in 1990.
Featured Product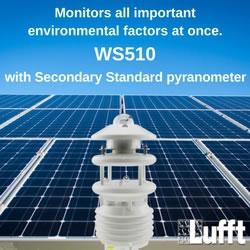 Professional weather sensors form the heart of large solar plants supporting their operation and performance. Lufft was the first manufacturer to combine several sensors in one housing, bringing the largest multiparameter weather sensor family with 19 members into being. Many of them are well-suited for solar site assessment and continuous monitoring. The most commonly used one is the WS600 delivering data on temperature, air pressure, wind, relative humidity and precipitation. Through its open protocol, it can easily be attached to radiation sensors e.g. from Kipp&Zonen. Other models have an integrated Silicon, Second Class or Secondary Standard radiation sensor.