Cleantech Week Feb 6-10, San Francisco - merges the cleantech industry & the climate movement to create new business opportunities, highlight solutions & spur further massive investment
Cleantech Open has announced the initial roster of speakers at Cleantech Week, February 6-10, 2017, in San Francisco. With Cleantech Week, Cleantech Open aims to make cleantech entrepreneurship accessible to a broader public, inviting new talent and energy into an industry poised for exponential growth.

Cleantech Week convenes the emerging cleantech commercialization ecosystem to create new business opportunities, highlight solutions, engage citizens, cultivate partnerships, and spur further massive investment—building on the $320 billion of global capital invested last year in the cleantech sector.
"Cleantech Week is a calling of the tribes, a gathering of all those seeking to create careers and generate wealth by answering the need to build the sustainable economic infrastructure for the future," said Ian Foraker, Executive Director of Cleantech Open.
Speakers span the spectrum of investors and industry observers:
Ryan Popple, CEO of ProTerra on the future of mobility and how his company seeks to electrify the entire U.S. bus transit
fleet
Katherine Hamilton, Principal at 38 North Solutions on where our energy will come from in 2030
Gerard Reid, Founding Partner at Alexa Capital on how solar is revolutionizing our energy world
John Carrington, CEO of STEM on the role of storage in the next generation of energy technology
Ira Ehrenpreis, Managing Director of DBL Partners on how we can sustainably feed the planet and solve food insecurity
Spearhead the transition to a clean economy
Focused on cleantech as one of the major economic opportunities of our generation, Cleantech Week 2017 highlights advances in cleantech entrepreneurship, builds industry connections, features employment opportunities, showcases thought leaders, and spurs investment in cleantech.
The week focuses on three major themes: global cleantech entrepreneurship, open innovation, and cleantech investment. Five days, 10+ events in downtown San Francisco and beyond, 100+ cleantech startups, and 500+ participants and experts from our network — enabled by corporate partners like Autodesk, Coca-Cola, and Ford. See a complete program overview here.
Cleantech week programs:
Opening event at Climate One, where leading thinkers will discuss how Cleantech can clean up our future (note a
separate pass for this event is required)
Open Innovation Summit on Tuesday at SwissNex (by invitation only. Please inquire with Max Gimpel-Henning at
mgimpelhenning[at]cleantechopen[dot]org)
Cleantech Job Fair on Friday, February 10th
Cleantech Week Closing Party on Friday, February 10th
Clean technology is at the tipping point. Cleantech is no longer just the sustainable option, it is increasingly the most economic one as well. Opportunities in the sector have never been greater.
Join Cleantech Week and step onto the next wave of wealth creation that will deliver a future where people and nature both thrive. #WeAreTheFix.
Sponsorship opportunities
Cleantech Open invites organizations join us in supporting the startups that will build the sustainable economy of the future. Organizations can sponsor the entire week, specific events, or awards. Cleantech Open is a mission driven non-profit (501c3) enabled through the generous contributions of our large corps of pro bono professionals. As such, we rely on the generosity of our donors and sponsors. Sponsorship opportunities start at just $5,000 and are available here. For more information, contact Max Gimpel-Henning: mgimpelhenning[at]cleantechopen[dot]org.
Host an Event
Cleantech Weeks goal is to foster an inclusive movement that creates opportunities for everyone to participate in a transition to a cleaner economy. To drive this goal, we are inviting aligned organizations to host events highlighting their solutions or contributions towards fostering cleantech innovations. If you are interested in hosting an event, please contact Ibolya Tarsoly: itarsoly[at]cleantechopen[dot]org.
ABOUT CLEANTECH OPEN
Now entering its second decade of impact, Cleantech Open is a 501(c)(3) not-for-profit organization with the mission to find, fund, and foster the big ideas that address todays most urgent energy, environmental, and economic challenges. To accomplish this mission, Cleantech Open manages three major programs: our U.S. Accelerator, our Global Cleantech Innovation Programme (GCIP), and our Global Ideas Competition.
Over the past ten years, more than 1,200 companies have participated in the organizations flagship U.S. accelerator and showcasing program. These companies have gone on to raise over $1.2 billion in external funding; and, more than 70 percent of these companies are still in business today.
Since 2014, Cleantech Open has partnered with UNIDO and Global Environmental Fund of the World Bank to accelerate more than 300 companies per year in the developing world through GCIP. Finally, every year, Cleantech Open provides a forum for entrepreneurs with the best cleantech ideas from over20 countries around the world can compete for recognition at our Cleantech Week event.
Cleantech Open is sponsored nationally by several sponsors, including Wells Fargo, Coca-Cola, and Ford. For more information, visit http://www.cleantechopen.org, or follow us on Twitter: @cleantechopen.
Featured Product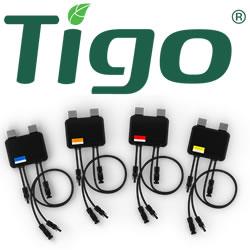 Tigo will announce the new product launch of the patented UHD-Core TS4-A (Advanced Retrofit/Add-on) Platform at SPI 2019. The new TS4-A-M (Monitoring) & TS4-A-S (Safety) units have improved lightweight hardware and lower labor costs to address a range of functions and budgets. The TS4-A-M allows module-level monitoring via Tigo's SMART Website & App. The TS4-A-S is UL-certified as a rapid shutdown solution for residential and C&I PV system. Both units join the Tigo's multivendor solution that works with almost any inverter and smart module in the global PV market. Contact sales@tigoenergy.com for pricing, shipping, and availability in Q4'19.