Award Nominations to be accepted through March 17
SAN FRANCISCO, Jan. 18, 2017 /PRNewswire/ -- Intersolar North America, the most-attended solar industry event in North America, today announced the opening of the Intersolar AWARD nomination period. Now in its tenth year, the Intersolar AWARD series recognizes the most innovative solutions in the solar industry. To embrace the changing market landscape, Intersolar has incorporated a new category within the prestigious Outstanding Solar Projects segment: Smart Renewable Energy.

The Smart Renewable Projects award focuses on the combination of energy generation, storage, grid integration and energy management. Participants are invited to submit projects and intelligent solutions that analyze and optimize power generation and consumption, as well as those that interconnect various technologies, and thereby help to create smart concepts for managing and storing renewable energy.
"Over the past decade, the Intersolar AWARD has recognized some of the most impressive innovations in the solar industry, from next-generation solar modules to peer-to-peer solar photovoltaic microgrids," said Florian Wessendorf, managing director of Solar Promotion International GmbH. "Being at the forefront of the solar industry means we must evolve along with the market, and in this case shining a spotlight on smart systems and grid integration. We anticipate a very competitive pool of applicants in 2017 and strongly encourage all companies to submit a nomination!"
Any company or project owner set to exhibit at one of the global Intersolar or ees events in 2017 is eligible to submit projects, products and services for consideration. Since 2008, the AWARD committee has received 908 submissions from 45 different countries, and 97 nominations have been awarded the prize to date.
Nominations for the Intersolar AWARD are open until 12 pm PST on March 17, 2017. For more information, please visit www.intersolarglobal.com/award. The award will be presented on May 31, 2017 at Intersolar Europe, the world's leading exhibition for the solar industry and its partners. The winners of the AWARD in North America will also be recognized at Intersolar North America, July 11-13 in San Francisco.
About Intersolar
With events spanning four continents, Intersolar is the world's leading exhibition series for the solar industry and its partners. It unites people and companies from around the world with the aim of increasing the share of solar power in our energy supply.
Intersolar is inspired by the guiding principle: Connecting Solar Business.
The exhibition and conference series focuses on the areas of photovoltaics, energy storage, renewable heating, products and solutions for smart renewable energy. Since being founded, Intersolar has become the most important industry platform for manufacturers, suppliers, distributors, service providers and partners in the global solar industry.
With more than 25 years of experience, Intersolar has the unique ability to bring together members of the solar industry from across the world's most influential markets. Intersolar exhibitions and conferences are held in Munich, San Francisco, Mumbai, São Paulo and Dubai. These global events are complemented by the Intersolar Summits, which take place in emerging and growing markets worldwide.
For more information on Intersolar, please visit: www.intersolarglobal.com
Organizers: Intersolar Europe is organized by Solar Promotion GmbH, Pforzheim and Freiburg Wirtschaft Touristik und Messe GmbH & Co. KG (FWTM). The exhibitions in North America, India, South America and Middle East are organized by the international subsidiaries Solar Promotion International GmbH, Pforzheim and Freiburg Management and Marketing International GmbH (FMMI) and local partners.
Featured Product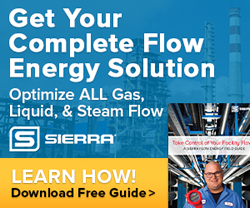 Download Flow Energy Guide - Written by Engineers For Engineers. Learn how to save on energy costs by optimizing your facility flows that impact costs like compressed air, natural gas, steam, and hot or chilled water.