San Diego solar installer awards startup sustainable energy storage battery maker a significant contract that puts it on target to meet annual revenue projections.
iDemand Energy Storage Inc. (iDES3) has begun engineering and design work on a $4.1 million solar-plus-battery storage project that will lower dependency on the investor-owned utility and reduce the carbon footprint for five buildings belonging to a San Diego County-based biotech company.

The contract to manufacture uninterrupted-energy-supply batteries capable of storing and discharging up to 1.078 megawatts of solar energy was awarded to iDES3 in early January by SunFusion Solar Inc. Both are San Diego companies.
"One of the challenges of this project will be to customize solar awnings that will hang off the sides of the buildings," said Ray Trejo, co-founder and senior vice president of six-month-old iDES3. "They will need to be specially engineered to ensure that they're not too heavy. There will also be solar arrays atop carports and rooftops."
Work, including installation of the battery units and solar arrays, is expected to be completed in mid-October. The name of the biotech concern is being withheld pending iDES3's patent applications for the solar storage technology, Trejo added.
"This is the first of potentially several projects for the biotech company, which in addition to its buildings in San Diego County, also has facilities in Baja, Mexico," said Sandy Ellard, president of SunFusion.
The client's objective is to shave peak-load electricity demand during the middle of the day by using energy discharged from the battery units that was stored overnight. During peak-demand periods, utility companies charge higher rates than in off-peak times, Trejo said.
Rates may run as high as $20 per kilowatt between noon and 6 p.m. and $15 per KW from 6 p.m. to 10 p.m. "It all depends on the utility jurisdiction," he said.
However, utility companies will essentially "double-dip" by adding what's called a non-coincidental charge on top of the peak rate any time they detect a user's maximum rate. "But our battery system looks for a rise in demand and it automatically discharges stored power to level off the demand load," he explained.
The biotech contract, which calls for 900 kilowatt hours for the five buildings' load is the largest to date for the startup battery manufacturer.
SunFusion Solar has averaged sales of $4 million annually since it was founded in 2010.
For more information, call Ray Trejo, iDemand Energy Storage's co-founder and senior vice president, on his cellphone, 951-551-6969, or CEO and co-founder Walter Ellard at 855-272-1684, ext. 1002. Ellard may also be reached on his cellphone at 858-837-4755.
Featured Product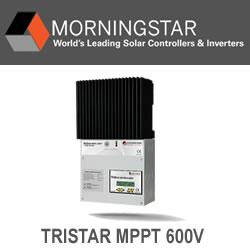 Morningstar's TriStar MPPT 600V charge controller leverages Morningstar's innovative TrakStar™ MPPT technology and our 20+ years of power electronics engineering excellence, to enable the widest input operating voltage range available from a solar array, wind turbine or hydro input. This controller's standard and DB versions are for off-grid applications, and the TR versions were developed to enable retrofitting grid-tied systems with battery backup.