Ecoark Holdings, Inc. announces a service partnership with Sunworks, Inc., a leading provider of solar power solutions, which will include Sunworks within Ecoark's suite of sustainable technologies, broadening the company's portfolio with solar products suited for large-scale, retail clients.
Rogers, AR - January 24, 2017 - Ecoark Holdings, Inc. ("Ecoark")(OTCQX: EARK), a provider of a growing suite of proprietary technologies and services that drive sustainability and facilitate sustainable growth for a wide range of clients, today announced a service partnership with Sunworks, Inc. (Nasdaq: SUNW), a leading provider of solar power solutions. The partnership will include Sunworks within Ecoarks suite of sustainable technologies, allowing the Company to broaden its offerings portfolio with innovative solar products suited for large-scale, retail clients.

To support its clients sustainability commitments, Ecoark will utilize Sunworks as a key service provider for large scale solar installations for its retail clients. The initiative will expand Ecoarks technology offerings and enable Sunworks to implement solar projects specifically designed to help retailers experience long term energy savings, tax benefits, and reduced overhead. Sunworks is backed by years of experience in serving the retail and agriculture industry, offering turnkey design, installation, and project management.
This partnership is significant for Ecoark, in that it currently works with the largest retailers in the world that are committed to sustainable business practices. With the addition of Sunworks solar technologies, Ecoark can offer a complete suite of turnkey, sustainable technology services to its clients, driving additional revenue to the Company.
"We are excited about this partnership with Sunworks, and for the opportunity to offer world class solar technologies to the leading retail customers we currently work with, as well as new customers seeking to become more efficient," said Randy May, Chairman and CEO, Ecoark Holdings, Inc. "This partnership will allow us to expand our service offerings and meet a need for retailers nationwide, as the focus on sustainable business practices grow. We take pride in our ability to offer industry-leading technologies to our customers and will continue to seek out additional opportunities that generate revenue for our Company."
Sunworks has a steady track record of outstanding performance in retail installations. The agreement will help introduce Sunworks products and services to many of Ecoarks largest retailer clients throughout the country. Sustainability is central to Ecoarks core business strategy and provides additional leverage in helping clients reduce their utility costs and promote environmental initiatives.
"We believe our partnership with Ecoark has great synergy, as it expands our ability to help large retailers achieve their environmental goals using solar power," said Sunworks CEO Jim Nelson. "Sunworks is well versed in the dynamics of the retail industry and how it applies to todays energy consumption requirements."
About Sunworks, Inc.
Founded in 1983, Sunworks, Inc. has emerged as a premier provider of solar power solutions for both consumers and businesses. Were committed to quality construction practices that always exceed industry standards and uphold our ideals of ethics and safety. Today, Sunworks continues to grow its presence, expanding nationally with regional and local offices. We strive to consistently deliver high quality, performance oriented solutions for the agriculture, commercial, government, public works, residential, and utility industries. Our dedication to excellence is reflected in our 25-year warranty, a benchmark that we standby in order to support our customers above and beyond their expectations.
About Ecoark Holdings, Inc.
Based in Rogers AR and founded in 2011, Ecoark Holdings, Inc. is a growth-oriented company based in the retail and logistics hub of Northwest Arkansas. Ecoarks portfolio of technology solutions increase operational visibility and improve organizational transparency for a wide range of corporate clients.
Ecoarks technologies fight waste in Operations, Logistics, and Supply Chains across the evolving global economy. Ecoarks portfolio of companies and technologies work to integrate people, processes, and data in order to overcome ingrained operational hurdles and create new revenue streams.
Ecoarks vision is to expose the cycles of waste that reduce efficiency and cost effectiveness across the business landscape. Ecoarks strategically acquired subsidiaries have anticipated and responded to key economic factors impacting every business today.
Ecoark addresses these vital economic factors through four active subsidiaries, Zest Labs, Eco3d, Pioneer Products, and Magnolia Solar.
For more information, please visit www.ecoark.com.
Media Contact
Matthew Bretzius
FischTank Marketing and PR
matt@fischtankpr.com
Featured Product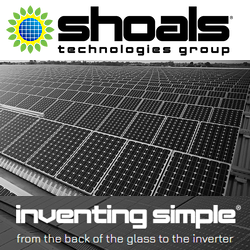 Inventing Simple® isn't just a slogan to us, it's a way of life. Using simple plug-and-play ideology, we revolutionized solar installations in 2003 with our Interconnect System™. Our harnessing system is now the gold standard EPC's use around the world. By using simple ideas, we are making solar energy a more affordable and clean power source for future generations.