After Successful Execution of Springbok 1 and 2 Solar Projects, LADWP Chooses 8minutenergy for Third Project, Amounting to Over 440 Megawatts-dc (350 MW-ac) in Springbok Solar Cluster
LOS ANGELES - July 20, 2016 - 8minutenergy Renewables, LLC ("8minutenergy"), the leading independent solar developer in the U.S., today announced it has received approval on a Power Purchase Agreement (PPA) to develop the over 115 megawatt-dc (90 MW-ac) Springbok 3 Solar Farm, located in Kern County, California. The project is the third installation in the Springbok cluster, joining 8minutenergy's 137 MW-dc (105 MW-ac) Springbok 1 project, and its 191 MW-dc (155 Mw-ac) Springbok 2 project. The Company also successfully negotiated the interconnection agreements for the entire cluster.

8minutenergy signed the Springbok 3 PPA with the Southern California Public Power Authority (SCPPA) on behalf of its participating member, the Los Angeles Department of Water and Power (LADWP).
"We are pleased to highlight the continuation of a long-standing partnership with LADWP and SCPPA, and we are proud to be a dedicated provider of reliable, cost-effective solar energy to the people of Los Angeles," said 8minutenergy's Chief Executive Officer, Martin Hermann. "We are fully committed to our project's successes and track record: our Springbok 1 and 2 farms are fully commissioned and operating. The addition of Springbok 3 is further proof of our reliable business model and partnership approach."
The three new Springbok solar facilities combined will generate enough clean, renewable energy to serve more than 152,000 Los Angeles households. The amount of greenhouse gas emissions avoided is comparable to removing nearly 150,000 cars from the road.
"As with the Springbok 1 and 2 projects before it, developing the new Springbok 3 solar farm is another positive step toward creating a clean energy future for Los Angeles and meeting our renewable energy targets of 33 percent by 2020," said Michael Webster, LADWP's Executive Director of Power System Engineering and Technical Services.
The first two Springbok projects resulted in the creation of more than 600 direct and 800 indirect jobs in Kern County during construction, and the Springbok 3 project is expected to generate an additional 250 direct and 300 indirect jobs.
"Our Springbok projects are among the largest operational solar farms in California to beat fossil fuel prices," said Tom Buttgenbach, President of 8minutenergy. "We thank our forward-thinking partners such as LADWP and SCPPA for making this possible, and for helping us to continue leading the industry in developing highly reliable solar energy with competitive prices."
##
About 8minutenergy Renewables, LLC
Founded in 2009, 8minutenergy Renewables is the nation's largest independent developer of solar PV projects. To date, 8minutenergy has nearly 5.5 gigawatts under development in North America, been awarded more than 1.5 GW in power purchase agreements, and is developing some of the largest solar plants in the world, including the 800 MW Mount Signal farm in California. 8minutenergy has an unmatched ability to produce affordable clean energy and to deliver strong financial returns on utility-scale solar projects. For more information, please visit www.8minutenergy.com.
Featured Product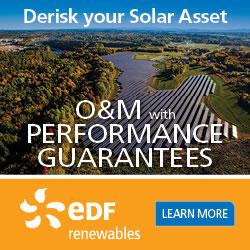 EDF Renewables offers the same innovative solutions that maximize the performance of our own 5.2 GW of installed projects. Because we're not an equipment manufacturer, our recommendations are transparent and data-driven. We cover the entire project lifecycle: from pre-commissioning support, through warranty and post warranty operation, to late stage and decommissioning.