2017 brings a new look to the Board of global renewable energy developer DP Energy with the appointment of three experienced advisors who bring a wealth of sectoral energy and financial experience to the expanding company, and an experienced Chief Legal Officer to strengthen DP's in-house legal resource.
2017 brings a new look to the Board of global renewable energy developer DP Energy with the appointment of three experienced advisors who bring a wealth of sectoral energy and financial experience to the expanding company, and an experienced Chief Legal Officer to strengthen DPs in-house legal resource.

"After more than 20 years in the renewables sector with completed projects and ongoing developments in onshore wind, solar, electricity storage and tidal across three continents, and with plans to extend our interests into offshore wind, the time is right to strengthen both our Board and the DP team," says DP Energys Managing Director, Simon De Pietro.
"We have added three global players as advisors to the Board; James Nyhan, Michael Walsh, and Stephen Williams. Their extensive experience and expertise will undoubtedly enhance the strategic direction of the company and support our commitment to develop and deliver sustainable, environmentally benign and increasingly substantial projects around the world".
"In addition, we have strengthened our in-house legal team with the appointment of Marie Mackenzie who joins us from Nordex Acciona Windpower as Chief Legal Officer, and who will bring both significant legal and commercial experience to the DP deal team across all the DP sectors of operation."
About the new Board Advisors
James Nyhan has extensive commercial experience in international energy project development gained with Shell, Edison Mission, Arup and as an independent consultant in rapidly changing energy markets in Europe, Australia, North America, South East Asia and the Middle East. He holds a civil engineering degree from University College Cork and an MBA from IMD, Switzerland.
"DP Energys principled approach, to developing sustainable renewable energy projects that enable us to move away from current carbon based systems, is impressive," he says. "Im delighted to support DP Energys willingness to explore new approaches to realise its potential in developing renewable projects internationally."
Michael Walsh FCA is Chief Executive Officer of Woodford Capital Limited, a single Family Office, which has interests in renewable energy, hotels, real estate and other investments.
He was a Director and CFO of NTR plc from 2003 until 2010. Prior to joining NTR, Michael was Group Finance Director and Company Secretary of Musgrave Group plc for ten years. He also worked with PricewaterhouseCoopers in both Dublin and London. Michael is a founding Director of the Family Business Network (Ireland) Ltd, a Director of Altas Investments plc, is Chairman of the Board of St. Patricks Hospital Foundation, and is a former Director of the Institute of Directors in Ireland. He has a Bachelor of Commerce degree from The National University of Ireland, Cork and is a Fellow of Chartered Accountants Ireland.
"I am very excited at the opportunity to work with Maureen, Simon and the team at DP Energy and I look forward to contributing to the further development of DP in the coming years," he explains.
Stephen Williams is a company director and former CEO of RBS (the global wholesale and investment bank) in Australia. As well as holding leadership positions within the financial services sector for over 18 years, Stephen has also worked in the electricity supply industry acquiring and developing power generation assets in Australia and Asia. He has a fundamental grasp of the global financial services, infrastructure and energy supply sectors. He is particularly experienced as a structured and project financier, both as an adviser / arranger / lender and as a developer / borrower.
"DP Energy impressed me at several levels - their authentic and passionate commitment to the development of sustainable and renewable energy generation in their chosen markets; the success they have achieved to date with relatively limited resources, and the strength of their project pipeline," he explains. "They have potential to become a very major force in the renewables sector. Im tremendously excited to be part of the team to help contribute towards the further growth and development of DP Energy."
About Marie MacKenzie DPs new Chief Legal Officer
Marie MacKenzie joins from Nordex Acciona Windpower where she was Regional Head of Legal North Europe and North America. She is not new to development or DP Energy, as she was Head of Legal at Irish developer SWS Natural Resources between 2003 and 2010, where she first met Maureen De Pietro and Simon.
She has extensive experience in all phases of project development, from the perspective of both developer and OEM, including investment and project finance and drafting and negotiating all project related agreements in various jurisdictions. Her time with Nordex Acciona Windpower has given her valuable insight into the design and engineering process, and various industry driven cost of energy initiatives. She originally trained and qualified as a Solicitor in the City, London before moving to Cork with her family in 2003. She is also qualified as an Irish Solicitor.
"I am absolutely delighted to be working with Maureen, Simon and the DP team. I am extremely fortunate to be joining such a dedicated, talented and knowledgeable team, genuinely committed to protecting the environment, with a strong track record in developing renewable energy projects. I am looking forward to putting my "developer hat" firmly back on and getting involved with so many exciting projects."
Featured Product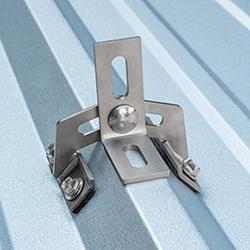 QuickBOLT Low Profile QuickBOLT with Microflashing™ is the industry's affordable, UL Certified Asphalt Shingle mounting system. The Microflashing™ is compressed by the collar on the bolt to create a water-tight seal. With an installation time of less than one minute, the Low Profile QuickBOLT allows installers to complete more jobs.