APsystems has established a new office in Guadalajara, Mexico, to support regional sales, distribution and service.
APsystems has established a new office in Guadalajara, Mexico, to support regional sales, distribution and service.

The new office address is AV. Lazaro Cardenas 2850-5º Piso, Colonia Jardines del Bosque C.P. 44520, Guadalajara, Jalisco.
APsystems marked the expanded regional presence with a user conference for solar professionals, as participants discussed the Mexico market and expectations for 2017.
APsystems earned praise from regional distributors and installers for microinverter performance, technical training, order fulfillment and after-sales service.
Three vendors were honored with "Golden Distributor" and "Silver Distributor" awards during the conference.
The firms STI, Greenergy and Sunnergy were honored by Wesley Tong, APsystems vice president, for their success in expanding the Latin America solar market.
Tong thanked the Golden and Silver distributors for their partnership in making APsystems a global leader in microinverter technology, and their passion for solar power and advancing a clean, renewable energy future.
APsystems entered the Mexico market in early 2013 with a specially configured version of the top-selling YC500 microinverter.
APsystems was founded in Silicon Valley in 2009, and was first to market with innovative solar products including the groundbreaking YC500, the first dual-module microinverter, and the YC1000 true 3-phase, four-module unit.
APsystems is the second largest supplier of solar microinverters and the third-largest MLPE provider in the world. APsystems microinverters have about 30 percent fewer components than competing brands, leading to higher reliability and lower costs at every point in the production and distribution chain.
Information on APsystems solar microinverter products can be found at www.APsystems.com.
Featured Product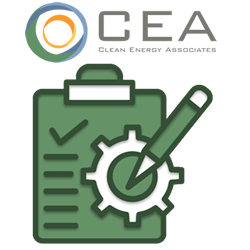 Clean Energy Associates provides a complete quality assurance solution that covers the entire product lifecycle of PV modules, storage systems, and every Balance of Sy stem (BOS) component. CEA's experienced on-the-ground and international team of quality control engineers and account managers offer an unparalleled quality assurance presence that can protect solar and storage investments and ensure future energy-producing viability for the life of the product.