The photovoltaics industry looks set for dynamic development in 2017. Production technology companies are responding by investing heavily in new facilities for cell and module production or upgrades to existing manufacturing lines.
Munich, February 14, 2017 - The investment trend in the photovoltaics industry (PV industry) is carrying through into 2017: Numerous PV manufacturers are set to build new production facilities or retrofit existing capacity this year. Innovative technologies are increasing the efficiency of solar cells, and at the same time, reducing manufacturing costs. Intersolar Europe, the worlds leading exhibition for the solar industry and its partners, will focus on the latest developments in PV production technologies from May 31 until June 2, 2017 in Munich. Alongside the exhibition, the Intersolar Europe Conference and accompanying workshops, which are taking place in parallel, will be discussing the innovations and new concepts in the industry.

The photovoltaics industry looks set for dynamic development in 2017. Production technology companies are responding by investing heavily in new facilities for cell and module production or upgrades to existing manufacturing lines. According to the industry information service PV-Tech, companies in China and India alone have announced plans to expand production by 17 gigawatts (GW) each in 2017. The USA, Europe, Saudi Arabia and Iran are also building new production facilities, and the German Engineering Federation (VDMA) reports that the order books of German manufacturers of facilities, components and machines are as full as ever. The main focus is on technologies for more efficient solar cells, such as PERC cells (passivated emitter rear contact) and PERT cells (passivated emitter, rear totally diffused), as well as heterojunction technology. Furthermore, new manufacturing and automation systems are expected to reduce operating and material costs and ensure an increase in productivity, and thereby more competitive prices.
New technologies for greater efficiency
Innovative processes for manufacturing highly-efficient cells hold considerable promise: Both PERC cells, which increase the passivation on the rear side of solar cells, and PERT cells increase efficiency, thereby reducing the module costs per KW of output. As a result, manufacturing facilities for such efficient modules are in demand and offer a significant competitive advantage - not only for plant constructors, but also for PV manufacturers who, on these grounds, are retrofitting existing manufacturing lines with new technologies in addition to constructing new facilities.
Heterojunction technology is also expected to set new records for efficiency. This cell concept combines crystalline and amorphous solar technology to achieve extremely high efficiency levels. Suppliers of production facilities for double-sided (bifacial) solar cells and modules anticipate a 30% higher yield compared with the yields achieved by the cells available up till now. The industry expects to see progress not only from new cell concepts, optimized contacts and improved module concepts, but also from higher quality silicon wafers.
Intersolar Europe Conference: the future of crystalline silicon technology
Falling module prices put pressure on plant constructors to boost efficiency in manufacturing as well. Here, the industry is searching for approaches which save costs and materials, and uncovering new potential for savings, for example by automating processes. Experts will be discussing the availability of options in this area, as well as locating further potential opportunities for growth and scope for greater efficiency at the Intersolar Europe Conference, which takes place in parallel to the exhibition.
More than 30 sessions will address the future of the photovoltaics industry: Attendees can find out more about technical achievements and new challenges for module production, receive new impetus for investment and gain insights into the global PV markets, bring themselves up to speed on solar cell manufacturing with crystalline silicon, or discuss the implementation of the climate targets set at the 21st United Nations Climate Change Conference (COP 21).
The VDMA will be presenting the results of the 8th International Technology Roadmap for Photovoltaics at Intersolar Europe. Interested attendees can find out more about the technological trends in crystalline silicon photovoltaics, and have the opportunity to discuss potential improvements and standards with research institutes, suppliers and users at the event.
Intersolar Europe 2017 will take place from May 31-June 2 at Messe München.
Further information on Intersolar Europe can be found at www.intersolar.de/en
Partners of Intersolar Europe
Intersolar Europe is supported by the leading solar industry associations: the German Solar Association (BSW-Solar) as an exclusive partner, the German Solar Energy Society (DGS), the European Solar Thermal Industry Federation (ESTIF), the International Solar Energy Society (ISES), and the platform for photovoltaic production equipment within the German Engineering Association (VDMA-PV).
With the support of SolarPower Europe.
About Intersolar
With events spanning four continents, Intersolar is the worlds leading exhibition series for the solar industry and its partners. It unites people and companies from around the world with the aim of increasing the share of solar power in our energy supply.
Intersolar Europe is the worlds leading exhibition for the solar industry and its partners. It takes place annually at the Messe München exhibition center in Munich, Germany and focuses on the areas of photovoltaics, energy storage and renewable heating, as well as on products and solutions for smart renewable energy. The accompanying Intersolar Europe Conference consolidates selected exhibition topics and showcases international markets, financing and pioneering technologies. Since being founded, Intersolar Europe has become the most important industry platform for manufacturers, suppliers, distributors, service providers and partners in the global solar industry.
With more than 25 years of experience, Intersolar has the unique ability to bring together members of the solar industry from across the worlds most influential markets. Intersolar exhibitions and conferences are held in Munich, San Francisco, Mumbai, São Paulo and Dubai. These global events are complemented by the Intersolar Summits, which take place in emerging and growing solar markets worldwide.
In 2017, ees Europe, Europe's Largest Exhibition for Batteries and Energy Storage Systems, will take place in parallel to Intersolar Europe for the fourth time. Together with the accompanying ees Europe Conference, the exhibition covers the entire value chain of innovative battery and energy storage technologies.
For more information on Intersolar Europe, please visit: www.intersolar.de/en
Featured Product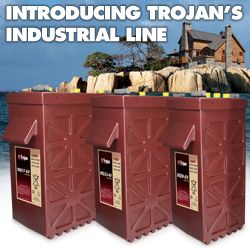 Trojan's deep-cycle batteries provide rugged durability, outstanding performance and long life for use in all types of solar energy installations. With over 90 years of experience, Trojan delivers the world's most reliable and trusted batteries in flooded, AGM, Gel, and Lithium types. These batteries enable solar equipment systems to operate at a peak level of performance in the harshest conditions or the most challenging of locations and are manufactured and tested to IEC standards.