In an effort to overcome regulatory challenges and advance the progress of energy storage technologies, the 10th Energy Storage World Forum has curated a platform whereby the highest number of utilities at an energy storage conference (over 34), will meet with regulators to generate solutions.
With the proliferation of mainstream energy storage technologies in the marketplace and forecasts for the next few years booming sky high, it's time for the change-makers and outdated policies to play catch-up. In many countries, government content specifications and obstructive regulations in electricity market design are holding up this process.

The Energy Storage World Forum will be hosting German Parliamentary State Secretary, Uwe Beckmeyer from the the Federal Ministry of Economic Affairs and Energy (BMWi). Mr Beckmeyer will be speaking on Germanys Energiewende, which has recently cast a spotlight on energy storage, with the BMWi funding many early demonstration projects with their 200 million Euro energy storage funding initiative.
Its topics like this that need to be engaged, as well as regulators such as Andy Burgess (CEER & Ofgem, UK), Veli-Pekka Saajo (Energy Authority, Finland), Jesus Serrano Landeros (CRE, Mexico), and Andreea Strachinescu (EU, Belgium), who will be speaking at the Energy Storage World Forum in Berlin. Participating at the Forum, offers the opportunity to fine tune business cases and put pressure on regulators to work in one's favour.
The Energy Storage World Forum has curated a global perspective with speakers from over 22 countries - some utilities hailing from the United States. There will also be a strong focus on building business cases and evaluating the bankability thereof. The Director of Short-Term Electric Supply from PG&E (USA), will be sharing recent experiences and evaluating the top revenue streams available for energy storage. AESs Director of Energy Storage Markets, Franck Bernard, will address creating fair regulatory frameworks to make energy storage projects bankable. AESs recent project in Hawaii consists of 28 MW solar PV and a 20 MW five-hour duration energy storage system.
Meanwhile, in the UK the business model for Solar PV has been built around the end consumer and is therefore more clearly defined. Adrian Richardson, Head Of Microgeneration, Centrica (UK), will be evaluating this business case at the Energy Storage World Forum.
There is also the opportunity to be a part of an exclusive strategizing session to develop a roadmap for overcoming some of the energy storage challenges. One area of concern which could be focused on, is addressing the policy limitations in order to accelerate market expansion. This session includes participants such as Franck Girard, Chairman and Managing Director, NIDEC ASI (ITALY) and Logan Goldie-Scot, Head of Energy Storage Analysis, Bloomberg New Energy Finance, (UK).
Speaking at the Forum in London 2014 - Sir David King (Climate Change Envoy, UK Government) believed the Energy Storage World Forum to be "focused on todays most important problems." This spirit has continued throughout, and this year bringing attendees over 50 brand new researched topics on the latest advancements in energy storage.
The stage is set for the energy storage world market to explode, so now is the time to fine tune business cases, and disrupt regulatory barriers to create a level playing-field for new technologies. For best performance, this balancing act requires multi-perspectives and the first-hand insight from companies who have already overcome these challenges. The Energy Storage World Forum promises to deliver on this.
-
4th Residential World Forum 8-9 May 2017 - Berlin & 10th Energy Storage World Forum 10-12 May 2017 - Berlin
View 50 speakers profiles and 60 topics here: https://goo.gl/3VOEHG
Register online now to benefit from the early bird offering: https://goo.gl/EitHp3
Energy Storage World Forum Website: http://www.energystorageforum.com/
For any queries please contact Emily at emily(at)energystorageforum(dot)com, or call + 44 208 43 298 96.
Featured Product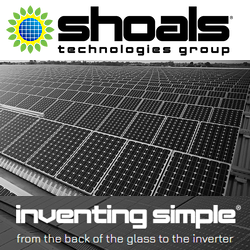 Inventing Simple® isn't just a slogan to us, it's a way of life. Using simple plug-and-play ideology, we revolutionized solar installations in 2003 with our Interconnect System™. Our harnessing system is now the gold standard EPC's use around the world. By using simple ideas, we are making solar energy a more affordable and clean power source for future generations.