iDemand Energy Storage, a San Diego manufacturer of sustainable energy storage batteries, has entered into an agreement that allows Hi-Power Solar of Hawaii to be its exclusive dealer for that state.
For more information, contact iDemand Energy Storage CEO Walter Ellard, cellphone, 858-837-4755. Hawaii contact, Hi-Power Solar Vice President Cruz Romero, 808-388-0057.

iDemand Energy Storage (iDES3), a San Diego-based manufacturer of sustainable energy battery storage systems, has agreed that solar installer Hi-Power Solar of Pearly City, Hawaii, will be its exclusive distributor for the state.
Under the agreement, finalized in mid-February by iDES3 sales manager, Benjamin Luck, the company will ship its custom-designed and fabricated battery units, which vary in size and capabilities to meet customers' needs, directly to Hi-Power Solar.
"We met with Hi-Power's executives when they came to San Diego recently, and we are honored and pleased to be working with them," said iDES3 CEO Walter Ellard.
Ellard was referring to a late January meeting when he and iDES3 CTO/chief engineer Saroj Joshi met with Hi-Power Solar Vice President Cruz Romero and Patrick Ambler, the company's operations manager.
"Our interest in becoming an exclusive dealer for iDemand was based on the quality of the product," Romero said. "Compared to other batteries, iDemand's is more dense, and it's backed by a 25-year warranty. No one else in the U.S. is doing that, and it's a great benefit for homeowners who are looking to buy a self-generating system. Most companies are only offering warranties of 10 or 15 years.
"iDemand batteries fit to customers' needs and scalability, and they're safe. They won't blow up, and they're made in the U.S. That's important, particularly from the standpoint of job creation."
iDES3's battery lineup includes the 9-36 kilowatt hour Echo Indoor series suitable for most residential needs, the 18-72 kWh Echo Outdoor, and the 36-108 kWh Alpha, available in either indoor or outdoor versions. They are all comprised of fifth-generation lithium iron phosphate, LiFePO4, the most advanced sustainable energy battery technology available.
"Our battery storage units are the only whole-house, whole building systems on the market today," Ellard stressed. "That means they'll pick up all your heavy-hitting loads, such as air-conditioning, pool pumps and electric vehicle chargers, while providing ample output for other appliances and needs. We keep the lights on 24/7, 365 days a year."
Romero conservatively estimated that sales of solar-plus-battery systems could reach $2.5 million in an initial 12-month period.
Background: iDemand Energy Storage was co-founded in August 2016, by Walter Ellard and Raymond Trejo to serve both the residential and small- to mid-sized commercial markets. Their mission is to revolutionize the energy storage sector, and they've recruited and hired a team of highly experienced electrical and design engineers to assist them. To date, sales total $1 million, and there are $5 million in contracts on the board, including one for five facilities of a San Diego-based biotech company. iDES3 is also in negotiations for projects in Cambodia and Nigeria.
Ellard, whose background in electrical installations dates back to 1986, started working in the solar industry in 2005 as a project superintendent for one of California's largest commercial installers, then opened his own company, SunFusion Solar in 2010. He earned the C-10 electrical contractor's license in 2008.
Trejo, who studied mechanical engineering at San Diego State University, has devoted his career to the renewable energy industry. He holds multiple contractor's licenses, including the C-10.
Hi-Power Solar was founded in 2010 by Ron Romero, who has 30 years of solar industry experience, which included solar hot water and thermal hot water energy, solar attic fans, solar pool heating systems and photovoltaic systems. More recently, the company added sustainable energy battery backup and off-grid systems to its offerings.
Ron Romero's expressed philosophy for running a successful and growing company is to treat each of its customers as if they were family and to support the local economy.
"This is a key reason why Hi-Power Solar was interested in offering the iDES3 brand. It ties in nicely with our premium panels, which also have a 25-year warranty," he said.
Featured Product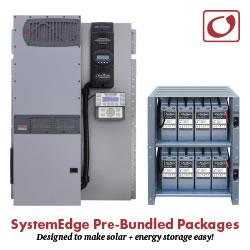 Each pre-bundled package is designed to make solar plus energy storage easy. By combining OutBack's most popular FLEXpower pre-wired systems with matched OutBack energy storage, SystemEdge takes the guesswork out of installing solar plus storage. Every SystemEdge package includes a FLEXpower factory pre-wired system, application-specific EnergyCell batteries and racking, FLEXware ICS Plus combiner and all the necessary connection hardware.