It also highlighted PANDA Bifacial module at the trade show
BAODING, China, March 3, 2017 /PRNewswire/ --Yingli Green Energy Holding Company Ltd. ("Yingli" or "Yingli Solar") (NYSE: YGE), one of the world's leading solar panel manufacturers, announced a Hotspot Free Series Module at the PV Expo 2017, which was held in Tokyo, Japan from March 1-3, 2017. The Hotspot Free module can eliminate potential safety risks such as fire and material degradation, and ensure better safety, better module reliability and higher returns.

The Hotspot Free technology is based on a concept whereby each cell is protected by a bypass diode. In any case that the current of a single cell doesn't match the rest of the string, for example because that cell is shaded, the bypass diode will be activated and will ensure that the other cells can still work properly and prevent the affected cell from heating up. Beside being a safety feature, less heat also means less stress for the materials, leading to a longer lifespan of the whole module, which improves performance ratio and increases yield for the investors.
Yingli also highlighted their PANDA Bifacial module at the trade show. The PANDA Bifacial module can generate power on the front and rear sides, which, for example, has been proven by a 50MW top runner project in Datong, Shanxi province, in China. The PANDA Bifacial module is made of two layers of 2.5mm thick low-iron tempered glass, which replaces the conventional back sheet and glass structure. Specifically, the PANDA Bifacial module integrates the technology from Yingli's state-of-the-art PANDA n-type monocrystalline solar cells, which can generate power not only on the front side, but also on the rear side by using reflected photons that hit the module on the back side*. Therefore, the power yield of the PANDA Bifacial module will increase by up to 30% compared to a monofacial standard module.
The PANDA Bifacial module possesses strong durability and resistance to PID (Potential Induced Degradation) and performs well in various harsh environments of high temperature and humidity, salt mist and sand. With a maximum system voltage of 1500 Volts (V), the PANDA Bifacial module can improve system performance and reduce the balance-of-system costs by up to 25%.
"It is wonderful that we have such high performance modules. They can not only generate more power but also enhance safety and increase returns. We will do our best to promote them everywhere in Japan to give our customers the best products and highest returns," commented YAMAMOTO JOJI, Master Director of Yingli Green Energy Japan. "Yingli will always be committed to reducing the cost of solar power generation and making solar electricity affordable and accessible for all through continued technology innovation."
*Depending on the environmental condition of the installation.
About Yingli
Yingli Green Energy Holding Company Limited (NYSE: YGE), known as "Yingli" or "Yingli Solar", is one of the world's leading solar panel manufacturers. Yingli's manufacturing covers the photovoltaic value chain from ingot casting and wafering through solar cell production and solar panel assembly. Headquartered in Baoding, China, Yingli has more than 30 regional subsidiaries and branch offices and has distributed more than 17GW solar panels to customers worldwide. For more information, please visit www.yinglisolar.com and join the conversation on Facebook, Twitter and Weibo.
Featured Product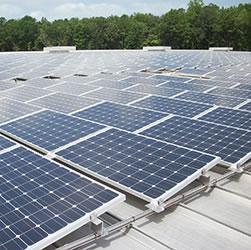 The Power Rail™ Commercial Mounting System is designed with the professional PV solar installer in mind. Both the XD/UD and LD/MD rails feature single tool assembly with the revolutionary patented RAD™ Lock-in-Place bolt for fast and secure module clamping. The high strength marine-grade aluminum rails include an integral wiring channel for securing cables and providing a professional finish.