Electronics manufacturing services provider MC Assembly is working with Maine-based Pika Energy to manufacture components of the companys solar inverter product lines.
Electronics manufacturing services provider MC Assembly is working with Maine-based Pika Energy to manufacture components of the companys solar inverter product lines.

Pika Energy selected MC Assembly in 2016, seeking a New England-based manufacturing partner to meet the companys increasing production needs.
"We looked to MC Assembly when we sought to scale up our manufacturing to meet increasing product demand," said Chip Means, Pika Energys Director of Sales Development. Means said MC Assemblys location just two hours from Pika Energys headquarters was a strong quality in the relationship from early on. "We mutually identified the advantage of working closely, geographically, as partners," he said.
"We have built a strong relationship," said Gary Tarallo, Director of New Business Development for MC Assemblys Boston Facility. "Its truly a partnership, as we both look at how we support each other as a win-win."
Pika Energy develops clean power electronics solutions for residential and commercial sectors. Its patented technology takes an input from clean energy sources and distributes power that can be stored in a battery, used in a building or sold back to the grid.
According to Tarallo, Pika Energy is on the leading edge of an industry that MC Assembly sees as the future for consumers. "Clean energy is a fast-growing market and Pika Energy has an innovative product line. Were happy to be working with them," Tarallo said.
MC Assembly started ramping up to volume production in October at its Boston facility. "There was a lot of collaborative work between both our engineering groups getting it set up and going," said Thom Hansen, Director of Operations at MC Assemblys Boston facility. "We worked collectively on engineering changes as they came about and made sure we were both on the same page."
Hansen said Pika Energys products need to comply with specific utility grid standards. To ensure reliability, MC Assembly used its standard robust inspection and testing process. "The best things we can do to ensure reliability is to provide layers of verification," Hansen said.
"Working with MC Assembly has been a very open, very active process," Means said. "Theyve worked with our team to really understand our upcoming pipeline needs. Its been an exciting last six months and MC Assembly has been a big part of that," Means said.
For more information about MC Assembly, please visit http://www.mcati.com.
About MC Assembly
MC Assembly (http://www.mcati.com), based in Melbourne, Fla., with operations in Billerica, Mass. and Zacatecas, Mexico, is a national leader in the contract manufacturing arena with annual revenues of approximately $200 million. It provides turnkey solutions to original equipment manufacturers and focuses on assembly of medium volume, medium mix printed circuit boards assemblies (PCBAs) and box builds. MC Assembly's capabilities include surface mount and pin-through-hole interconnection technologies, PCB and box build DFM, DFT, DFA engineering, in-circuit, functional and environmental testing, full box-build and direct order fulfillment.
About Pika Energy
Pika Energy, Inc. is a manufacturer of direct current (DC) power electronics. Headquartered in Westbrook, Maine, Pika Energy manufactures a growing suite of products including bi-directional islanding inverters, battery charge controllers, DC solar optimizers, power converters, and certified small wind turbines. All Pika Energy products are powered by the REbus" DC nanogrid. Pika Energy's products provide grid-optional clean power that enables buildings to collect, store and self-consume energy from solar PV and wind sources. Learn more at http://www.pika-energy.com.
Featured Product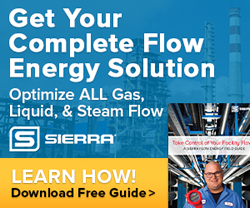 Download Flow Energy Guide - Written by Engineers For Engineers. Learn how to save on energy costs by optimizing your facility flows that impact costs like compressed air, natural gas, steam, and hot or chilled water.