Tom Leyden to speak at Intersolar East on the future of energy storage
SAN DIEGO--(BUSINESS WIRE)--EDF Renewable Energy (EDF RE), a leader in renewable energy development, announces the creation of a new business unit, Distributed Electricity and Storage (DES), to focus on distributed solar and storage projects up to 30 megawatts (MW). The DES group will pursue emerging distributed-energy opportunities to provide unique products and services to commercial, industrial (C&I) and utility customers in the United States.

Early last year, EDF RE acquired groSolar, a leading developer and EPC provider of commercial, industrial, and municipal solar projects, as a growth platform for distributed energy and more recently expanded its DES team by hiring two solar/storage industry veterans, Tom Leyden and Felix Aguayo.
Mr. Leyden, the former CEO of Solar Grid Storage, and Mr. Aguayo, former Managing Director at SunEdison, have a long and successful track record developing large commercial solar projects. According to Leyden, "C&I and utility customers are missing the opportunity to increase their reliability and reduce costs by not taking a more holistic approach to their energy procurement and asset utilization."
Raphael Declercq, Vice President, Portfolio Strategy at EDF RE, commented, "In ramping up our commitment to distributed generation and energy storage, EDF RE will be developing new products for our customers that will also help enable greater penetration of wind and solar into the grid."
The DES group will draw upon EDFs extensive capabilities and implement new solar-plus-storage business models for C&I and utility customers. In partnership with EDF affiliates in North America, the company offers a complete suite of services, including energy supply, hedging, and risk management, along with options for demand response, load management, and on- and off-site renewable generation.
One of the largest renewable energy companies in North America, EDF RE has developed 9 gigawatts (GW) of wind, solar, bioenergy and storage projects in the U.S., Mexico, and Canada. EDF Group globally has deployed over 300 MW (824 MWh) of storage projects.
Mr. Leyden will be panelist at Intersolar East in Brooklyn, New York on March 23. He will participate on a panel of industry leaders to discuss the future of energy storage in the U.S.
About EDF Renewable Energy:
EDF Renewable Energy is a leading US independent power producer with 30 years of expertise in the renewable industry, covering all range of services from project origination, development, sales and marketing, to long-term asset management. EDF Renewable Energy specializes in wind and solar photovoltaic with presence in other segments of the renewable energy market: distributed electricity, storage, biogas, and biomass. EDF Renewable Energys North American portfolio consists of 9 gigawatts of developed projects with 4.4 gigawatts of installed capacity throughout the US, Canada, and Mexico. The operations and maintenance subsidiary, EDF Renewable Services, operates 10 gigawatts throughout North America. EDF Renewable Energy is a subsidiary of EDF Energies Nouvelles. EDF Energies Nouvelles is the renewable energy arm of the EDF group, the leading electricity company in the world. For more information visit: www.edf-re.com.
Featured Product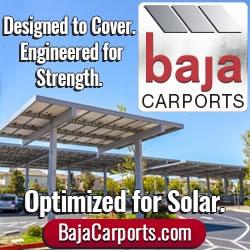 Baja Carports offers an extensive solar support system product line customized to customers' site specifications by in-house engineers, meeting their parking lot coverage, plus optimal PV production needs. Baja's Full Cantilever Tee is often paired with its Semi and Full Cantilever carports to meet live/loads up to 60psf and wind speeds to 160mph. All Baja products are pre-fabricated, bolted connections, pre-galvanized structural steel for fast on-site installation and project aesthetic requirements."