WASHINGTON (April 3, 2017) - A new analysis by the Natural Resources Defense Council demonstrates how federal tax credit extensions are leading to new wind and solar projects that will create more than 220,000 jobs and add nearly $23 billion to the U.S. economy in 2017. The report, titled Engine of Growth: The Extension of Renewable Energy Tax Credits Will Power Huge Gains in the Clean Energy Economy, also outlines the significant benefits that tax credits provide to U.S. states.

The following is a statement by Kevin Steinberger, policy analyst in NRDCs Climate and Clean Air Program:
"Good tax policies to boost wind and solar projects are creating new jobs, growing our economy, and providing climate and public health benefits. This analysis makes a clear and compelling case to build on this progress to achieve even stronger, more persistent job gains and economic growth. The time is ripe to further accelerate our urgently needed transition to a low carbon economy."
The report analyzed the impact of renewable energy tax credits on employment and gross domestic product (GDP) gains in 16 selected states. Highlights from those findings include:
· Iowa, already fourth in the country in wind jobs, is likely to see additional job creation driven by the boost in wind growth in the region, and its economy stands to gain more than 3,300 jobs each year in 2017 and 2018.
· Nevada, home to some of the cheapest solar power in the country, is projected to add more than 1,400 jobs in both 2017 and 2018.
· Ohio adds more than 10,000 jobs in 2018, and the states GDP is expected to get a boost of nearly $1.2 billion that year.
· Pennsylvania is projected to gain nearly 9,300 jobs each year in 2017 and 2018, and its GDP gets a boost of more than $1 billion per year.
· In Virginia, the state gains about 5,000 jobs per year in 2017 and 2018.
To view the full report, including graphics and data from each of the 16 states, visit: https://www.nrdc.org/sites/default/files/engine-growth-renewable-energy-tax-credits-report.pdf
####
The Natural Resources Defense Council (NRDC) is an international nonprofit environmental organization with more than 2 million members and online activists. Since 1970, our lawyers, scientists, and other environmental specialists have worked to protect the world's natural resources, public health, and the environment. NRDC has offices in New York City, Washington, D.C., Los Angeles, San Francisco, Chicago, Bozeman, Montana, and Beijing. Visit us at www.nrdc.org and follow us on Twitter @NRDC.
Featured Product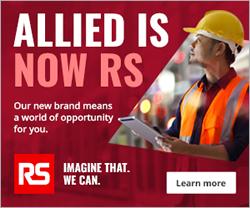 Imagine a global, end-to-end partner for industry - dedicated to solving your problems so you can drive your business forward. We can. On February 6, 2023, we officially changed our name to RS. It's just one way we're evolving to make our partnership and doing business with us even more rewarding. As RS, you have access to more support, more expertise, and more possibilities for your big and small projects - from concept and design to build and maintenance. Going forward, you'll see the RS logo on our website, social media, communications, and packaging. And rest assured, our current systems and procedures will remain intact to seamlessly process your order.