Completed solar PV installation at Montgomery Park and three other sites generates more than 1 million kilowatt hours annually
Portland, Ore. - (April 14, 2017) - Starting today, Imagine Energy is powering Montgomery Park - Portland's second-largest office building and an iconic fixture on the city skyline - along with three other nearby buildings owned by the Bill Naito Company. Portland's Imagine Energy has installed more than 3,000 solar modules that will generate approximately 1 million kilowatt hours annually, making it one of the largest solar PV (photovoltaics) installations in Portland. The three other sites include a warehouse and two parking structures located near Montgomery Park. The energy generated by the solar installation, as shown in this video, is enough to power about 20 percent of the iconic building.

"Today we are flipping the switch to power one of Portland's most iconic and historic buildings with state-of-the-art solar technology," said Jonathan Cohen, founder of Imagine Energy. "This is a bright day for Montgomery Park and the entire city of Portland."
The Montgomery Park building, a former Montgomery Ward mail-order catalog warehouse, was originally constructed in 1920, built from steel-reinforced concrete with a rail line running through its center. In the 1980s, the building was acquired and renovated into what is now one of Oregon's largest office buildings. Owner Bill Naito Company has transformed the historic building through a host of upgrades and retrofits into one of the most sustainable commercial buildings in the United States. The brand-new solar array is the latest upgrade: It will produce more than 30 percent of the building's energy needs and is expected to increase Montgomery Park's Energy Star rating from a current 95 to 98, indicating energy efficiency greater than 98 percent of U.S. commercial buildings.
"This solar project is part of an effort to achieve a perfect Energy Star score of 100 by Montgomery Park's 100th anniversary in 2020 said Tim Hendricks, facilities director at Bill Naito Company. "We're proud of our ongoing commitment to invest in and upgrade Montgomery Park, one of Portland's historic landmarks, into one of the city's most energy-efficient buildings."
Montgomery Park's presence on the National Register of Historic Places, coupled with the wind and seismic engineering required of ballasted solar systems in Portland, posed significant challenges in the permitting and approval process. After four protracted historic reviews and six crane lifts, including a 300-ton crane mobilization to set 150-foot truss spans, as well as a major service upgrade - much of which was constructed during the harshest Portland winter in 40 years - Imagine Energy has declared the Montgomery Park project operational. The project was captured in time-lapse video.
Mayor Ted Wheeler, U.S. Representative Suzanne Bonamici, and representatives of Energy Trust of Oregon, the Bill Naito Company and Imagine Energy will celebrate the completion of this project on Friday, April 14, 2017, with a tour, speakers and refreshments.
"Investing in renewable energy upgrades to buildings is key to addressing climate change and other challenges we face," said Congresswoman Suzanne Bonamici. "As the top Democrat of the Environment Subcommittee I'm committed to protecting the environment and the health of Oregonians and people across the country. Congratulations to Montgomery Park, the Bill Naito Company, Imagine Energy and Energy Trust of Oregon on flipping the switch on one megawatt of clean, solar power. In Congress, I'll continue to advocate for programs that support smart investments in renewable energy."
The complex installation spans four separate buildings, including American Can (207.4 kW), Nacco (161.1 kW), Montgomery Park (424.11 kW) and its north parking structure (229.1 kW). Totaling 3,068 state-of-the-art 335-watt Smart Solar Modules made by Silfab, the installation utilizes standing seam, hybrid ballast, and steel truss mounting systems, and incorporates one of the tallest ballasted installations in the United States. Sollega provided the advanced aerodynamic ballasted mounting system that reduces wind uplift forces, making ballasted mounting possible on the nearly 100-year-old building. The smart modules are individually optimized through Tigo Energy's TS4 universal junction box platform. Integrated Tigo optimization will allow better module level diagnostics, more comprehensive safety features and maximized energy harvest.
The north parking garage installation also features a high-efficiency LED lighting system and four EV charging stations, and is mounted on Quest Renewables' QuadPod Mounting System. These canopies, whose innovative design received the Department of Energy's SunShot grant award, are assembled on the ground and then lifted by crane for final installation, allowing for a safer and more efficient work site. The QuadPod system is also able to sustain the greatest power density of any carport system due to QuadPod's ability to span drive aisles as opposed to just the parking spaces. Other key partners on the north parking garage array included KPFF (engineering), Contech Services (Concrete forming) and Eagle's View Construction (steel fabrication + erection).
With this sizable project now complete, Cohen of Imagine Energy added, "We encourage businesses large and small to learn more about how we can help power their properties."
About Montgomery Park
Originally the Montgomery Ward building, the Montgomery Park building was a hallmark of modern industrial design when it opened on January 1, 1921, and housed a branch of Montgomery Ward & Company until 1982. The building, at 2701 Northwest Vaughn St., is on the grounds of the 1905 Lewis and Clark Exposition. Company engineer W.H. McCaully created the design for the building, which was used in six other company buildings around the nation. In 1925, the company placed a large neon 'Montgomery Ward' sign on the roof. When Montgomery Ward closed its Northwest Portland branch in 1982, the company sold the building to H. Naito Properties. Naito hired SERA Architects to renovate the building for office use, adding a nine-story glass atrium inside the U. The neon sign on the roof was changed to read 'Montgomery Park.' The building has been listed on the National Register of Historic Places since 1985.
About Imagine Energy
Founded in 2003, Imagine Energy combines the most advanced technologies with rigorous engineering to provide expertly crafted energy solutions to commercial and residential properties. The company offers design, installation, and service of HVAC and solar PV systems. The experienced and diverse Imagine Energy team brings passion, focus and attention to detail to each project, and offers a wide range of systems to meet their clients' needs. To learn more, visit imagineenergy.net.
About Bill Naito Company
Named after the late William Naito, the Bill Naito Company is a real estate operating company with more than 1.2 million square feet of commercial office and retail space in Portland's Northwest and Downtown districts. Their real estate portfolio includes Montgomery Park, Albers Mill, Galleria Building, American Can Building and Madera Marketplace. For more information, visit billnaito.com.
Featured Product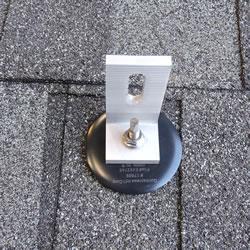 SolarRoofHook's Low Profile QuickBOLT with Microflashing™ is the industry's affordable, UL Certified Asphalt Shingle mounting system. The Microflashing™ is compressed by the collar on the bolt to create a water-tight seal. With an installation time of less than one minute, the Low Profile QuickBOLT allows installers to complete more jobs.