GCE Model With a compelling pipeline of market opportunities presently existing in the United States, the Company is finalizing multiple agreements in prime US markets with major waste plastics and waste tire suppliers to acquire the rights to install pyrolysis systems on their facilities, which allow for the waste plastics and tires to be converted into alternative, low emission fuels such as diesel, and syngas, on their facilities. Each of the feedstock operations has numerous sites available to the Company which will increase GCE's development pipeline of multiple projects extending into the next decade. In 2014, the Company concluded multiyear feedstock supply contracts with Sonoco Recycling for waste plastics and Liberty Tire for end of life tires. Global Clean Energy, Inc. is well positioned to take advantage of the tremendous opportunities in the mushrooming alternative energy industry due to its technology, project development approach and financial engineering expertise. The Company is structured to be a low-cost supplier in its selected market niches and will be positioned to survive periods of market weakness and to thrive during market expansions.
2017 PLANS AND UPDATES:

Since the 3rd Quarter report which updated in detail the corporate activities of the company the progress being made is as follows:
1. The audits necessary in both GAAP and IFRS (necessary for Canada) are proceeding and the Board originally thought would be completed by now is hoped to be completed in the second quarter.
2. It is the intent after receipt of the GAAP audits and updates to our quarterly reports based on those audits that the company file its' FORM 10 application to seeking full status return to a Fully Reporting Public Company. Shareholders and the public can look at the company's earlier Form 10 filing in its' SEC filings.
3. The Board of Directors will finalize the Company's lawsuits as it pertains to damages done by certain third parties both in scope of damages to be sought, individuals involved and location of such filings. The company has researched its' damages level and the Board feels confident it will be successful in making a case on behalf of its' shareholders.
4. The Scrap tire to fuels project and recovered Carbon Black Project has made progress to completion, is not done yet but the company is working hard to finalize both acquisitions . There is no question it has taken substantially longer than anticipated but the profitability is still contained even with the unsettled nature of the market place.
5. Work on the ALGAE REIT of which the company will be the managing general partner has made substantial progress and final format and funding options will be completed in the second quarter. A more detailed report will be issued in the latter part of April, 2017.
6. Further work on the company's application to obtain a $40 million BBB bond is on hold until our Scrap tire project is finalized, timing is necessary to obtain the BBB rating.
There is no question that 2016 was a year of transition for Global Clean, but since 2008 when the company went public we have survived and redirected our efforts and have done so again. We have profitable projects coming on line and will make the company a viable player in the energy markets.
Investor Relations 713-852-7474
https://www.otcmarkets.com/financialReportViewer?symbol=GCEI&id=169748
Featured Product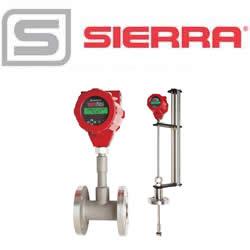 Sierra was the first to introduce a combination volumetric vortex and multivariable mass flow meter in 1997. Today, Sierra's completely redesigned InnovaMass® iSeries™ 240i/241i builds on two decades of success measuring five process variables for gas, liquid and steam with one connection. Now, with the latest hyper-fast microprocessors, robust software applications, field diagnostic and adjustment capability, and a new state-of-the-art flow calibration facility, Sierra's vortex iSeries delivers precision, performance, and application flexibility never before possible.