• Initiative demonstrates Ancala's innovative and proactive approach to asset management • Battery deployment pursued in partnership with Anesco
London, 24 April, 2017 - Ancala Partners LLP ('Ancala'), the independent mid-market infrastructure investment manager, and Anesco, the UK's leading energy storage provider, have completed the first portfolio-scale deployment of batteries co-located on solar parks in the UK. The batteries, located at 10 of Ancala's existing solar PV sites across England, will provide balancing and frequency response services to the National Grid.

Renewable electricity generators such as solar parks are intermittent producers of electricity. The rapid growth of renewable installations in recent years has created challenges in balancing the supply and demand of electricity in the UK. Batteries offer a unique solution to the challenges of intermittent generation by storing and deploying electricity into the National Grid at the times it is required most. Batteries can also provide other services to the National Grid, such as frequency response, due to the speed with which they can charge and discharge electricity.
The battery portfolio located on Ancala's solar parks provides the ability to store 12MWh of electricity.
Lee Mellor, Director, Ancala, commented:
"To realise this initiative we have worked closely with all stakeholders and in partnership with Anesco. It is a great example of how we can add value for our investors through proactive management of assets."
Steve Shine, Executive Chairman, Anesco, commented:
"We are delighted to be partnering in this initiative with Ancala, which has the foresight and appetite to join us in undertaking innovative renewable energy projects. It's an exciting time for the sector and we are proud to be playing a leading role in the deployment of energy storage technology in the UK."
Featured Product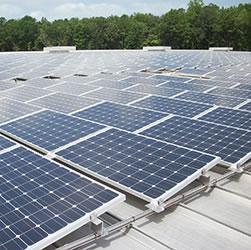 The Power Rail™ Commercial Mounting System is designed with the professional PV solar installer in mind. Both the XD/UD and LD/MD rails feature single tool assembly with the revolutionary patented RAD™ Lock-in-Place bolt for fast and secure module clamping. The high strength marine-grade aluminum rails include an integral wiring channel for securing cables and providing a professional finish.