Multiple function modules in a lube oil filtration system combine to provide wind turbine designers and manufacturers with an effective, cost-reducing turn-key gearbox filtration and lubrication system solution
Parker Hannifin Corporation, the global leader in motion and control technologies, will be showcasing its fully integrated gearbox filtration and lubrication system with configurations to handle wind turbines up to7.0 MW at AWEA 2017 n Anaheim, CA.

In the past, wind turbine OEMs built fluid filtration systems by assembling components from different manufacturers. While such systems worked reasonably well, Parker chose to deliver complete gearbox health maintenance systems, which included multiple functions like filtration (filters, pumps, valves) cooling, monitoring and conditioning, and the related piping to connect the various components. By integrating multiple system components in a manifold block rather than piping the components individually, installation is simplified in a more reliable, compact and lighter unit.
Designed specifically for wind turbine gearboxes, Parkers Lube Oil Filtration System (LOFS) also offers a choice of particle detectors for another level of contamination control, which include independent monitoring of system contamination trends, and early warning LEDs or digital display indicators that convey low, medium or high contamination levels.
Created by Parkers Hydraulic Filter Division Europe, and available worldwide, the LOFS can include such features as magnetic pre-filtration, which can increase the lifetime of hydraulic filters by up to 40%. Further developments in the use of patented media and element design by Parker have seen life of filter elements go from a nominal three to six months, up to 15 months - a significant reduction in maintenance costs for turbine owners.
"Efficient filtration technology and lubricating oil system cleanliness is essential in extending maintenance intervals and increasing equipment reliability. Parkers combined gearbox lubrication filtration and cooling systems do just that," said Olli Rantanen, Product Manager with Parkers Hydraulic Filtration Division Europe.
"Parkers outstanding wind turbine experience and world leading technology in filtration solutions have helped convince our renewable energy customers of the system reliability, and our system-matched filtration solutions have proven to be effective to extend the lifetime of critical components such as bearings," he added.
Benefits of integration
The modular capability of the Parker system is a key benefit, as it allows designers the flexibility to mix and match different sub-systems. Pre-engineered sub-systems are designed as building blocks, which are pre-tested and can be configured for a specific application. Parker is delivering a manufactured turn key solution which allows wind turbine designers to shorten their design cycle lead time.
Systems are designed for easy installation and maintenance
Parker is an innovative manufacturer and supplier to the worlds OEMs - but many years of focusing on system integration solutions based on customer specifications applied to LOFS for heavy oil applications has allowed Parker to differentiate itself in the wind energy market as a proven manufacturer delivering not only quality components and systems, but value added services such as kitting and packaging, system integration/turnkey solutions and predictive service and maintenance. Parker also supplies complete electro-installations with all sensors and diagnostic tools wired to terminal boxes for easy connection to the OEMs main control panel.
Product configuration and benefit summary for wind turbine gearboxes
The Gearbox Lube Oil Filtration System (LOFS) from Parker consist of these main components: Electrically driven pump; mechanicaly driven pump; filter-manifold with integrated functions; heat exchangers; oil reservoir equipment or additionaly external oil tank assembly; and particle detection equipment. The systems lightweight, compact design and integrated fluid functionality reduce possible leakage points and decreases the number of components and connections with piping and fittings that traditionally would be required. Electric system solutions are connected to terminal boxes and high flow / low differential pressure Parker lube filters provide world class filtration performance effective in extreme conditions.
Parkers integrated filtration/condition monitoring system provides what the company terms as "total gearbox health maintenance" for todays wind turbines. A complete summary of the integrated system is summarized below:
- Reduce the number of 'loose components and sub-systems by integrating them into a filter manifold solution
- Using fewer connections, pipes and fittings- and thereby reducing potential leakage points
- Reduced installation time
- Multiple test points for full system analysis capability
- Easy maintenance is designed in
- Gearbox Health Management system tools and processes can be designed into the system from the outset
- Electric system solution is pre-connected to terminal boxes
- Parker provides turnkey solutions, including project management support
- World-wide availability with support from Parkers Renewable Energy teams in US, Europe and Asia
For more information on the Gearbox Lube Oil Filtration System and other wind turbine solutions , please visit: http://solutions.parker.com/AWEA2017 and www.parker.com/hfde.
Featured Product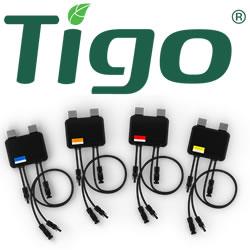 Tigo will announce the new product launch of the patented UHD-Core TS4-A (Advanced Retrofit/Add-on) Platform at SPI 2019. The new TS4-A-M (Monitoring) & TS4-A-S (Safety) units have improved lightweight hardware and lower labor costs to address a range of functions and budgets. The TS4-A-M allows module-level monitoring via Tigo's SMART Website & App. The TS4-A-S is UL-certified as a rapid shutdown solution for residential and C&I PV system. Both units join the Tigo's multivendor solution that works with almost any inverter and smart module in the global PV market. Contact sales@tigoenergy.com for pricing, shipping, and availability in Q4'19.