Soladvisor is a new online solar power consultation service that puts the consumer first and ready to move forward with confidence.
THINKING ABOUT DUMPING YOUR ELECTRIC COMPANY FOR SOLAR?

Soladvisor is now offering non-biased support and personalized information to home owners considering solar power.
Everyone has heard of solar energy, but few people understand solar or if it could work for their home.
With almost ten years in the solar industry, Soladvisors team has seen first-hand what a steep learning curve exists for homeowners to become informed consumers. A solar salesperson has quotas to fill and is rarely knowledgeable beyond sales techniques. This makes it unlikely that everything a consumer needs to know before making an informed decision can be covered. Consumers deserve better. We dont buy cars without investing time to compare and use online research tools.
Where can the consumer go to do the same for solar?
Now consumers can, and from just one place, www.soladvisor.com. Soladvisor is a full service online solar consulting destination for California residents. All levels of consumer interest in solar are accommodated from free educational blogs to affordable investment in the level of consultation that fits the consumers needs.
Jo Palumbo, founder of Soladvisor says, "This saves consumers time, money, and ensures they know whats right for their home and their budget before picking a vendor."
Information is power. Soladvisors full service delivers fully designed project and finance options. Together, this translates into getting consumers the best price, since their vendors customer acquisition, site evaluation and design costs have been lowered significantly. When consumers can get a lower price and their vendor gets a better margin, everybody wins.
As a "new" industry, solar needs to become better at giving consumers education and tools that are focused on their home and their situation.
Soladvisors approach welcomes people into solar without sales pressure and provides them with a qualified and personal source for information throughout every step of the process.
Featured Product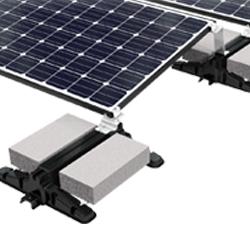 The Power Rail™ Commercial Mounting System is designed with the professional PV solar installer in mind. Both the XD/UD and LD/MD rails feature single tool assembly with the revolutionary patented RAD™ Lock-in-Place bolt for fast and secure module clamping. The high strength marine-grade aluminum rails include an integral wiring channel for securing cables and providing a professional finish.