Company will unveil innovations including next-generation power optimizer and large-capacity commercial inverters
Munich, Germany — May 29, 2016— SolarEdge Technologies, Inc. ("SolarEdge") (NASDAQ: SEDG), a global leader in PV inverters, power optimizers, and module-level monitoring services, is presenting its next-generation power optimizer, new large-capacity commercial inverters, and complete residential solution at Intersolar Europe.

On the cutting-edge of PV safety and module-level power electronics, SolarEdge is unveiling its new S-Series power optimizer, which is an Intersolar Award Finalist in the Photovoltaics category. The S-Series power optimizer has up to 40% higher power density, is 38% smaller, and introduces a new innovative safety feature that extends safety to the connector level. The new safety feature is designed to detect heat abnormalities and initiate shutdown before an arc occurs in order to prevent potential fires. The S-Series power optimizer is expected to be available in 2018.
Based on SolarEdge's track record of optimizing commercial-scale PV systems, SolarEdge is extending its commercial offering with the launch of larger-capacity, three-phase inverters up to 100kW. The new inverters enable reduced installation time and cost, while also providing smart energy management control.
Coordinating PV, storage, and home energy, the SolarEdge residential solution manages and monitors solar energy generation, electricity consumption, energy storage, and device control. The complete solution enables homeowners to increase self-consumption and energy independence. SolarEdge will show its portfolio of inverters for residential installations including the award-winning, single-phase HD-Wave inverter, the new three-phase E-Series inverter which is smaller, lighter, quieter, and more efficient than the previous generation, and a new compact residential solution for 4-8 panels.
"Dedicated to making solar systems smarter, SolarEdge continues to lead the industry in developing innovative technologies that help to make PV more economic around the world," stated Lior Handelsman, SolarEdge's VP of Marketing and Product Strategy.
Listed as a finalist for the EES (Electrical Energy Storage) Award, SolarEdge's StorEdge inverter is one of the only solutions currently available on the market that combines the management of PV, storage for both on-grid and backup power, and home energy management into a single inverter. The StorEdge inverter with backup power is already available in select markets.
Intersolar Europe attendees are invited to visit the SolarEdge booth, located at Hall B3, Booth 110, to meet with local and global management teams, learn more about SolarEdge's new product offerings, and participate in daily tours.
About SolarEdge Technologies
SolarEdge provides an intelligent inverter solution that has changed the way power is harvested and managed in solar photovoltaic systems. The SolarEdge DC optimized inverter system maximizes power generation at the individual PV module-level while lowering the cost of energy produced by the solar PV system. The SolarEdge system consists of power optimizers, inverters, storage solutions, and a cloud-based monitoring platform and addresses a broad range of solar market segments, from residential solar installations to commercial and small utility-scale solar installations. SolarEdge is online at http://www.solaredge.com
Featured Product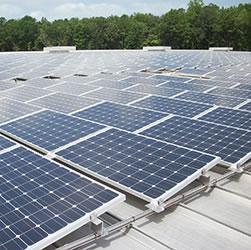 The Power Rail™ Commercial Mounting System is designed with the professional PV solar installer in mind. Both the XD/UD and LD/MD rails feature single tool assembly with the revolutionary patented RAD™ Lock-in-Place bolt for fast and secure module clamping. The high strength marine-grade aluminum rails include an integral wiring channel for securing cables and providing a professional finish.