Vivint Solar plans to return to Nevada residential solar market following two-year hiatus
LEHI, Utah, June 8, 2017 /PRNewswire/ -- Vivint Solar, Inc., (NYSE: VSLR), a leading full-service residential solar provider, today announced that it plans to re-enter the Nevada market to bring its affordable residential solar systems to residents. Vivint Solar announced its intention to restore operations in the state following the Nevada Legislature's passing of Assembly Bill 405 and stated commitment by Governor Sandoval to sign the bill into law.

Vivint Solar closed its operations in Nevada in 2015 following regulation that changed solar net energy metering rules and the state's primary utility reaching its net metering cap. AB 405 reinstates a policy that allows Nevada residents to be reimbursed for excess rooftop solar generation, while providing additional rights to protect consumers and their solar energy system investments.
"We are very pleased Nevada officials have recognized the broad public support of rooftop solar and reestablished the state's commitment to the future of renewable energy," said David Bywater, CEO of Vivint Solar. "This bill demonstrates the power of building consensus across stakeholders to find a win-win-win solution for the residential solar industry, utilities and Nevada consumers. We look forward to bringing jobs, consumer choice and affordable solar power back to the state of Nevada."
Vivint Solar expects to create up to 60 jobs in Nevada in the coming months and approximately 100 total jobs once it fully resumes operations in the state.
Once it returns to Nevada, Vivint Solar will operate in 18 states (Arizona, California, Colorado, Connecticut, Florida, Hawaii, Maryland, Massachusetts, Nevada, New Hampshire, New Jersey, New Mexico, New York, Pennsylvania, Rhode Island, South Carolina, Texas and Utah) and Washington D.C.
About Vivint Solar
Vivint Solar is a leading full-service residential solar provider in the United States. With Vivint Solar, customers can power their homes with clean, renewable energy and typically achieve significant financial savings. Offering integrated residential solar solutions for the entire customer lifecycle, Vivint Solar designs, installs, monitors and services the solar energy systems for its customers. In addition to being able to purchase a solar energy system outright, customers may benefit from Vivint Solar's affordable, flexible financing options or power purchase agreements. Through an exclusive collaboration, Vivint Solar is the only residential solar provider to offer solar plus storage systems with Mercedes-Benz batteries. For more information, visit www.vivintsolar.com or follow @VivintSolar on Twitter.
Featured Product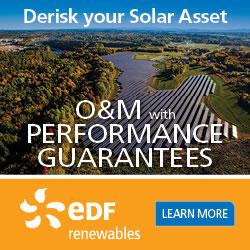 EDF Renewables offers the same innovative solutions that maximize the performance of our own 5.2 GW of installed projects. Because we're not an equipment manufacturer, our recommendations are transparent and data-driven. We cover the entire project lifecycle: from pre-commissioning support, through warranty and post warranty operation, to late stage and decommissioning.