After launching its new soft magnetic alloy, CARTECH® HYPOCORE™, at CWIEME Chicago last year, Carpenter Technology Corporation has spent the last eight months studying its unique properties and benefits. It will present its findings at CWIEME Berlin, taking place between 20th-22nd June 2017.
For more than 125 years, Carpenter Technology Corporation has been a leading producer and distributor of premium specialty alloys, including superalloys, titanium alloys, powder metals, stainless steels, alloy steels, and tool steels. Carpenters high-performance soft magnetic materials and advanced process solutions are an integral part of critical applications used within the aerospace, transportation, medical, energy, and consumer markets, among other sectors.

In October 2016, Carpenter unveiled its revolutionary soft magnetic alloy, CARTECH HYPOCORE, at CWIEME Chicago. The new non-oriented electrical steel was well-received by attendees, who praised its low coercivity, high permeability, and high electrical resistivity properties, as well as its ability to allow motors and generators to be designed smaller and more efficiently.
"The movement towards high induction and low core loss electrical steels usable at high frequencies continues unabated," says Dr. Chins Chinnasamy, Principal R&D Metallurgist for Magnetic Alloys at Carpenter. "This is thanks to the global shift toward electrification of transportation and distributed power generation.
"Now more than ever, our customers design priorities are to increase efficiency and reduce size. Thats exactly what our product helps to accomplish," he says. "Due to its reduced size and improved efficiency, CARTECH HYPOCORE allows customers to explore innovative new motor and generator designs."
The new alloy addresses a previously unfilled performance need between the CARTECH HIPERCO® 50 alloy and commercial Silicon steels, with higher induction than Silicon steels but lower core losses than HIPERCO alloys. This new material offers potential benefits to electrical machines and electromagnetic devices, such as laminations or assembled cores for small machines.
In-depth study
Having introduced CARTECH HYPOCORE last year, Dr. Chinnasamy will return to the stage at CWIEME Berlin between 20th-22nd June to update the community on its progress.
"Weve spent the last eight months conducting in-depth studies to learn even more about the materials unique properties and benefits, as well as contacting our customers to get modelling data," says Dr. Chinnasamy. "We now have solid data to support our claims that CARTECH HYPOCORE is indeed superior to other electrical steels on the market when it comes to efficiency and size. I will be presenting these findings at CWIEME Berlin 2017."
CWIEME is key
Carpenter has attended CWIEME events for over five years, and this will be the third time it has presented and exhibited at CWIEME Berlin. "CWIEME isnt just a great platform to promote our products; its the best place to get first-hand industry advice and feedback," says Tapan Shah, Global Director of Carpenter. "The exhibition is attended by a comprehensive list of electrical motor manufacturers and suppliers, and raw material suppliers. Speaking to them enables us to find out what the industry really wants. In fact, it was from listening to product engineers responsible for the design of motors, transformers, and generators at CWIEME that gave us the idea to create this product."
In addition to presenting CARTECH HYPOCOREs magnetic and thermal properties, Carpenter will be giving away free samples of the alloy at its exhibition stand for customers to test for themselves. "Information learned is better than information given," adds Shah. "By allowing customers to test the material themselves, we let the products benefits speak for themselves."
Dr. Chinnasamys seminar, entitled 'Plug into efficiency and performance, will take place at CWIEME Central on 21st June 2017 between 09:15-10:15.
CWIEME Berlin - the worlds leading exhibition for coil winding, electric motor and transformer manufacturing technologies
Dates: 20th-22nd June 2017
Venue: Messe Berlin, South Entrance, Messedam 22, 14055 Berlin, Germany
Opening times: Tuesday and Wednesday 09:00-18:00, Thursday 09:00-16:00
Admission: An on-site registration fee of €40 will apply for those who have not already registered for free online.
Featured Product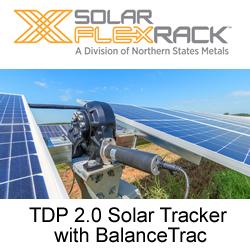 Solar FlexRack's latest solar tracker technology bundles an advanced tracker design with a full team of seasoned engineering and installation experts at your service. The next-generation solar tracker delivers a package of features that both enable increased energy yields for commercial and utility-scale solar installations, and significantly reduce project risks. That translates to smart installation cost-savings across your project budget.