iDemand Energy Storage, a startup manufacturer of sustainable energy storage batteries, plans to start work in July on a $1.4 million contract awarded by SunFusion Solar to produce batteries for five buildings operated by biochemical manufacturer, Scantibodies Laboratory. All three companies are based in San Diego County.
For more information, contact Walter Ellard, CEO and co-founder, at 858-837-4755, or Raymond Trejo, COO and co-founder, at 951-551-6969.

June 16, 2017 (San Diego, Calif.) - iDemand Energy Storage Inc. has completed engineering and plans to start work next month on a $4.1 million solar-plus-battery storage project for five buildings operated by Scantibodies Laboratory Inc., a biochemical manufacturer and research facility based in Santee, Calif.
The contract to make uninterrupted-energy-supply (UES) battery systems capable of storing and discharging up to 1.078 megawatts of solar energy was awarded to iDemand by SunFusion Solar Inc. Both are San Diego companies.
"One of the challenges of this project was customizing solar awnings that will hang off the sides of the buildings," said iDemand CEO Walter Ellard. "They were specially engineered to ensure that they arent too heavy. Additionally, there will be solar arrays atop carports and rooftops."
Because the buildings vary in size, the solar arrays and battery units will be installed in different phases with an anticipated start date of mid-October. Work is expected to be completed by the end of the year.
Another challenge, iDemand COO Raymond Trejo pointed out, was "fusing the PV (photovoltaic) system and UES (uninterrupted energy storage) system."
"We engineered a very creative method using ATS (auto transfer switches with high voltage DC (direct current) to DC charge and site controllers for each building," Trejo explained.
Said SunFusion President Sandy Ellard, "Theres the possibility that SunFusion and iDemand will be engaged to do several projects for Scantibodies, which aside from having operations in San Diego County, has facilities in Baja, Mexico and other countries."
The clients objective is to shave peak-load electricity demand during the latter part of the day by using excess energy stored and discharged from the battery systems. During peak-demand periods,
Southern California utility companies charge higher rates to commercial customers than in off-peak times and the peak-demand periods are expected to soon be extended, Trejo said.
Rates may run as high as $20 per kilowatt between noon and 6 p.m. and $15 per kW from 6 p.m. to 10 p.m. "It all depends on the utility jurisdiction," he said.
However, utility companies essentially "double dip" by adding whats called a non-coincidental charge on top of the peak rate whenever they detect a commercial customers maximum rate.
"But the beauty of our battery system is that it looks for a rise in demand and automatically discharges stored power to level off the demand load," Trejo explained.
The current Scantibodies contract calls for 2 megawatt hours for the five-building load.
Featured Product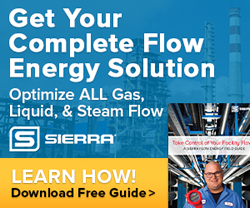 Download Flow Energy Guide - Written by Engineers For Engineers. Learn how to save on energy costs by optimizing your facility flows that impact costs like compressed air, natural gas, steam, and hot or chilled water.