2Q 2017 update of Microgrid Deployment Tracker reveals strong growth in the commercial and industrial sector
BOULDER, Colo.--(BUSINESS WIRE)--A new report from Navigant Research presents data on known grid-tied and remote microgrid projects in the proposal, planning, and deployed stages across six geographies and seven microgrid segments.

Navigant Research's latest edition of its Microgrid Deployment Tracker shows remote projects leading all microgrid segments in terms of capacity and number of projects. In addition, it reflects strong capacity increases in the commercial and industrial (C&I) segment, which added more than 2 GW. Click to tweet: According to a new report from @NavigantRSRCH, as of 2Q 2017, Navigant Research has identified 1,842 microgrid project entries, including 173 new projects, representing 19,279.4 MW of capacity for projects that are operating, under development, and proposed.
"Within the next decade, microgrids serving C&I applications are expected to become the fastest-growing segment as more companies seek stable power solutions beyond what the grid can provide," says Adam Wilson, research analyst with Navigant Research. "Market share in this segment increased from 6 percent to 16 percent from the 4Q 2016 Tracker, thanks to an additional 2.1 GW of capacity, largely from a portfolio of natural gas microgrids across India and China."
According to the report, diesel capacity remains the leading generation technology in terms of total capacity, though its lead continues to shrink as solar capacity gains ground. In terms of overall capacity, Asia Pacific jumped ahead of North America. And while North America remains No. 1 in operational microgrid capacity, Asia Pacific leads the market for capacity under development as well as proposed capacity.
The report, Microgrid Deployment Tracker 2Q17, tracks data on known grid-tied and remote microgrid projects in the proposal, planning, and deployed stages in six geographies. The report covers seven microgrid segments: commercial and industrial, community, utility distribution, institutional/campus, military, remote, and direct current (DC) systems. Specific information is provided on the capacity and project numbers by distributed generation type, operational and under development/proposed capacity, top 10 countries, and top 10 microgrid companies. The Tracker also segments projects currently known to be on hold. An Executive Summary of the report is available for free download on the Navigant Research website.
About Navigant Research
Navigant Research, the dedicated research arm of Navigant, provides market research and benchmarking services for rapidly changing and often highly regulated industries. In the energy sector, Navigant Research focuses on in-depth analysis and reporting about global clean technology markets. The team's research methodology combines supply-side industry analysis, end-user primary research and demand assessment, and deep examination of technology trends to provide a comprehensive view of the Energy Technologies, Utility Transformations, Transportation Efficiencies, and Buildings Innovations sectors. Additional information about Navigant Research can be found at www.navigantresearch.com.
About Navigant
Navigant Consulting, Inc. is a specialized, global professional services firm that helps clients take control of their future. Navigant's professionals apply deep industry knowledge, substantive technical expertise, and an enterprising approach to help clients build, manage and/or protect their business interests. With a focus on markets and clients facing transformational change and significant regulatory or legal pressures, the Firm primarily serves clients in the healthcare, energy and financial services industries. Across a range of advisory, consulting, outsourcing, and technology/analytics services, Navigant's practitioners bring sharp insight that pinpoints opportunities and delivers powerful results. More information about Navigant can be found at navigant.com.
* The information contained in this press release concerning the report, Microgrid Deployment Tracker 2Q17, is a summary and reflects Navigant Research's current expectations based on market data and trend analysis. Market predictions and expectations are inherently uncertain and actual results may differ materially from those contained in this press release or the report. Please refer to the full report for a complete understanding of the assumptions underlying the report's conclusions and the methodologies used to create the report. Neither Navigant Research nor Navigant undertakes any obligation to update any of the information contained in this press release or the report.
Featured Product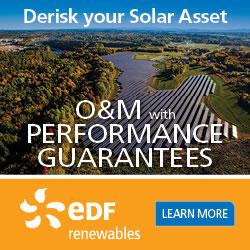 EDF Renewables offers the same innovative solutions that maximize the performance of our own 5.2 GW of installed projects. Because we're not an equipment manufacturer, our recommendations are transparent and data-driven. We cover the entire project lifecycle: from pre-commissioning support, through warranty and post warranty operation, to late stage and decommissioning.