The awards celebrated the very best products, people and initiatives from across the global electrical design and manufacturing industry.
CWIEME, the leading exhibition for coil winding, electric motor and transformer manufacturing technologies, hosted its first Global Awards at CWIEME Berlin 2017.

These awards aimed to represent a benchmark of industry quality and excellence, and encourage design engineers, operational decision-makers and technical project leaders to celebrate their achievements and promote their work.
The winners were chosen by a panel of expert judges from across the electrical design and manufacturing industry, including Dr. Konstantinos Laskaris, chief motor designer for Tesla and Dr. Yves Burkhardt, head of motor engineering and simulation at Valeo Siemens eAutomotive.
The coveted Engineer of the Year accolade was bestowed on Dr. Erik Hilinski, senior director for technology at Tempel, who directs the companys worldwide steel evaluation, material application and technology efforts. He is also the author of numerous published white papers and articles on the topic of steel magnetic performance and speaks at conferences all over the world, helping to educate the next generation of engineers.
For Outstanding Contribution - a lifelong commitment to the industry, the judges were looking for an individual who is seen as a mentor, thought leader and role model. This award was hard-fought, but was given to James R. Hendershot from Motorsolver. Hendershot has over 40 years experience in practical hands-on PM & SR brushless motor design, manufacturing and development. He has also written numerous technical papers, publications and presented tutorials on many different electric motor topics.
The Global Outreach - beyond the factory floor award looked at companies, groups of employees or individuals that had used their knowledge, electrical engineering capabilities and initiative to support others in a charitable or community outreach context.
The award went to ABB for its student training program with the Universities of Zambia (UNZA) and Copperbelt University in Kitwe in Zambia. The program is being funded by ABB and the German government to train a new generation of engineers. ABB is also funding the modernization of a substation at UNZA, and has set up a student sponsorship program.
The work to date has involved modernizing the engineering curriculum working with UK organization, Education Partnerships in Africa. 'Train the trainer techniques have been used to teach lecturers and technicians. The program is now in its first year with the university courses being attended by 63 Zambian students. The new curriculum will help students develop skills and practical
experience covering topics such as environmental aspects, renewable energy and micro grids.
The best of the best
The Product of the Year award went to OMICRON Labs new dielectric material analyzer, SPECTANO 100. The SPECTANO 100 offers an efficient solution to determine essential material properties like permittivity, dielectric losses, or impedance. By combining time and frequency domain spectroscopy in one device, the device significantly reduces the measurement time for low frequencies down to the µHz range. It is also cost-effective and powerful, as the compact all-in-one system has an output of up to 200 Vpeak, with no external booster needed.
"We feel honoured to have won this prize," says Britta Pfeiffer, product development manager at OMICRON Lab. "Many other great and innovative products were nominated for the award, so we are proud that the SPECTANO 100 has been chosen. With this product we have entered a new business area, besides the very well-known market for electrical power systems. Winning this prize shows us that we are on the right track to improving the daily work life of our customers. It also helps us to build up a network, get in contact with new customers and further develop our products and knowledge."
The Grand Prix - Winner of Winners award was also given to OMICRON Lab for the SPECTANO 100.
"In a time of increasing automation, digitalization and the demand for constant improvements for products and processes, innovation is key to keeping one step ahead of the competition. The best of these innovating businesses were promoted within these awards, creating a sense of motivation across the industry," says Dr. Ivana Mladenovic, research scienetist at Siemens Corporate Technologys Research and Technology Center and another of the CWIEME Global Awards judges.
The CWIEME Global Awards will return in 2018.
Featured Product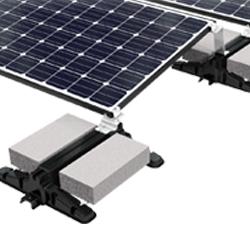 Preformed Line Products introduces the POWER MAX Ballasted Roof Mounting System. The POWER MAX solar mounting system is engineered to maximize energy output on commercial flat roofs. Developed with the professional installer in mind, this system offers adjustable inter-row spacing in the field of up to 11 inches. It features 50% fewer components and a simplified design resulting in faster assembly rates and labor savings on every project. Available in a flush mount, 5˚ or 10˚ tilt or higher density dual tilt design, the POWER MAX base arrives stacked on pallets providing easier transport to the roof. Engineered as a fully ballasted, non-penetrating system, it accepts standard concrete blocks and is qualified by wind tunnel testing.