Second quarter of 2017 saw $64.8 billion invested in clean energy around the world, up 21% from 1Q this year, but down 12% compared to 2Q 2016
London and New York, 7 July 2017 - The financing of two huge photovoltaic projects in the United Arab Emirates helped to drive a recovery in global clean energy investment to $64.8 billion in the second quarter of this year, the highest for any quarter since 2Q 2016.

The Sheikh Mohammed Bin Rashid Al-Maktoum III plant in Dubai and the Marubeni JinkoSolar and Adwea Sweihan project in Abu Dhabi, at 800MW and 1.2GW respectively, contributed $1.9 billion between them to the global investment total in 2Q 2017, according to the latest authoritative figures from Bloomberg New Energy Finance.
Other highlights of the data include bounce-backs in investment in the April-to-June quarter in China and the U.S., and sharply increased funding for projects in Mexico, Australia and Sweden. In addition, Egypt and Argentina, two new markets for renewables, saw record quarterly figures. The weakest feature was the U.K., where investment slumped more than 90% compared to 2Q 2016.
Victoria Cuming, head of policy for Europe, Middle East and Africa at BNEF, said: "The U.A.E. deals are the largest in that country to date by far, and show that its auction programs are leading to the commitment of hard cash by banks and equity providers. They also signal that oil-producing countries are warming to renewables as part of moves to diversify their economies."
Overall, solar was the star sector in 2Q, notching up investment of $35.6 billion, up 19% year-on-year and 20% quarter-on-quarter. Wind had a weaker three months, seeing investment slip 29% year-on-year to $26.2 billion, although it was 43% higher than in the first quarter of this year.
The commitments made to both solar and wind were less in dollar terms per MW in 2Q 2017 than they would have been in previous years because of sharp reductions in costs. BNEF estimates that global capital costs for PV and onshore wind have dropped by 15% and 14% respectively in the last 12 months, in response to fierce competition in manufacturing, and technology improvements.
Abraham Louw, analyst, clean energy economics at BNEF, said: "The $64.8 billion investment total in 2Q was quite firm given that backdrop of falling costs. There was also a good spread of big projects financed in different countries, and less reliance on European offshore wind than in some recent quarters."
There were only two large offshore wind arrays financed in Europe in 2Q - the 200MW Borkum West II and 112MW Albatros projects in German waters, at $918 million and $532 million. Other top project deals of the quarter were two Chinese 300MW offshore wind arrays, Three Gorges Dafeng and Three Gorges Zhuanghe, costing an estimated $1.8 billion in total, the 396MW Juchitan de Zaragoza onshore wind farm in Mexico, at $721 million, and the Avangrid La Joya onshore wind park in the U.S., at 400MW and an estimated $620 million.
Outside solar and wind, other clean energy sectors saw modest flows in 2Q. Biomass and waste-to-energy had investment of $387 million, down 76% year-on-year; small hydro $595 million, down 20%; geothermal $423 million, down 24%; and investment in energy smart technology companies (in areas such as smart grid, energy storage and electric vehicles) was $1.5 billion, down 50% year-on-year.[1]
Overall asset finance of utility-scale renewable energy projects was $51.7 billion in 2Q, down 13% on a year earlier but up 32% on 1Q 2017. Small-scale solar projects of less than 1MW attracted $10.8 billion, up 8% year-on-year.
Public markets investment in specialist clean energy companies totaled $1.2 billion in the 2Q, down 65% year-on-year and 47% quarter-on-quarter. The largest equity raisings on stock markets were for two Chinese companies, project developer Huaneng Renewables ($281 million) and solar glass maker Xinyi Solar ($194 million).
Venture capital and private equity investment in clean energy continued its recent upswing, with $1.9 billion raised in 2Q, up 50% on the same period in 2016 and 15% on 1Q this year. The top VC/PE deals were $400 million for Microvast Power System, a Chinese maker of batteries for electric and hybrid-electric vehicles, $113 million for French solar developer EREN Renewable Energy and $100 million for U.S. energy-efficient window company View Inc.
Taking all those categories of investment together, country-level results for the second quarter included:
• China $23.3 billion, down 16% compared to 2Q 2016, up 32% from 1Q 2017.
• The U.S. $14.7 billion, up 6% year-on-year, up 51% quarter-on-quarter.
• Europe $8.8 billion, down 49% year-on-year, up 10% quarter-on-quarter.
• Germany $3.2 billion, down 34% year-on-year, down 7% quarter-on-quarter.
• Japan $2.9 billion, up 12% year-on-year, down 11% quarter-on-quarter.
• India $2.6 billion, up 11% year-on-year, down 4% quarter-on-quarter.
• U.A.E. $2.1 billion, up from almost nothing in 2Q 2016 and 1Q 2017.
• Brazil $1.9 billion, down 1% year-on-year, up 10% quarter-on-quarter.
• Mexico $1.8 billion, up 261% year-on-year, down 10% quarter-on-quarter.
• Australia $1.5 billion, up 77% year-on-year, down 29% quarter-on-quarter.
• Sweden $887 million, up 213% year-on-year, and up from almost nothing in 1Q.
• France $845 million, up 43% year-on-year, down 1% quarter-on-quarter.
• Egypt $805 million, up from almost nothing in 2Q 2016 and 1Q 2017.
• Argentina $464 million, up from almost nothing in 2Q 2016 and 1Q 2017.
• The U.K. $407 million, down 93% year-on-year, down 60% quarter-on-quarter.
ABOUT BLOOMBERG NEW ENERGY FINANCE
Bloomberg New Energy Finance (BNEF) is an industry research firm focused on helping energy professionals generate opportunities. With a team of 200 experts spread across six continents, BNEF provides independent analysis and insight, enabling decision-makers to navigate change in an evolving energy economy.
Leveraging the most sophisticated new energy data sets in the world, BNEF synthesizes proprietary data into astute narratives that frame the financial, economic and policy implications of emerging energy technologies.
Bloomberg New Energy Finance is powered by Bloombergs global network of 19,000 employees in 192 locations, reporting 5,000 news stories a day. Visit https://about.bnef.com/ or request more information.
ABOUT BLOOMBERG
Bloomberg, the global business and financial information and news leader, gives influential decision makers a critical edge by connecting them to a dynamic network of information, people and ideas. The companys strength - delivering data, news and analytics through innovative technology, quickly and accurately - is at the core of the Bloomberg Terminal. Bloombergs enterprise solutions build on the companys core strength: leveraging technology to allow customers to access, integrate, distribute and manage data and information across organizations more efficiently and effectively. For more information, visit www.bloomberg.com or request a demo.
Featured Product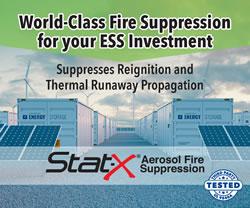 Stat-X® condensed aerosol fire suppression is a solution for energy storage systems (ESS) and battery energy storage systems (BESS) applications. Our Stat-X condensed aerosol fire extinguishing product was tested for efficacy in suppressing li-ion battery fires. It was found that the product successfully extinguished single and double cell battery fires. This testing was conducted in parallel with a large battery fire testing program on behalf of a large energy storage company.