Turnkey solutions help solar industry reduce inspection time & costs, quickly identify faults & irregularities, & optimize energy output
WASHINGTON, July 11, 2017 /PRNewswire/ -- Measure, a leading provider of drone services to enterprise customers, today launched new services for the solar energy industry with the introduction of a robust suite of drone inspection solutions for solar plant maintenance.

The new turnkey solutions enable solar facility owners, asset managers and O&M contractors to realize the cost and operational benefits of aerial inspections - including decreased inspection costs and higher plant productivity - without investing in drones, flight planning, pilots, GIS data specialists or data analysis infrastructure.
Solar panel inspections are the cornerstone of the solution suite, quickly and cost-effectively identifying defective or damaged panels that are limiting energy output and associated business revenues. Measure's temperature-specific thermal orthomosaics store temperature in every pixel for faster and more accurate pinpointing of faulty panel infrastructure.
Measure's new solar solutions also include drone-based site overview and maintenance, site shading and terrain analysis, thermal inverter scans, tracker misalignment detection and vegetation management.
Benefits include:
Improved efficiency and safety through reduced inspection time and elimination of field work. On a site generating 21 MW, for example, Measure can complete an inspection in 7 hours instead of weeks, freeing employees and contractors for higher-value activities while also lowering inspection costs. The lower cost also makes it possible to perform more frequent inspections that can detect problems in a timely manner.
Specially designed 'snapshot' reports that dramatically reduce the time required for asset managers to extract actionable information, whether from orthomosaic, terrain or surface models or other formats like point-of-interest images. Measure's online portal provides secure data hosting capabilities and customized tools for reporting and analytics.
Maximum revenue capture for larger plants that may not be inspected in a single visit, potentially leaving unidentified issues and/or faults that compromise solar plant capacity and associated revenues. Measure's launch customer was able to avoid a potential revenue loss through an inspection that discovered over 200 malfunctioning panels on a new solar farm.
"Drone technology has resulted in new savings and efficiency opportunities for the solar energy industry, but a major investment of capital and human resources is required for solar PV plants and O&M contractors to run a drone program in-house," said Harjeet Johal, Measure Vice President of Energy Infrastructure, who is a 10-year veteran of the renewable energy industry with a PhD in electrical engineering. "Our turnkey solution - created and staffed by drone and solar industry experts gives them access to the fastest, safest, best-planned and most accurate drone inspections and data reporting in the market today."
"We selected Measure to inspect our energy infrastructure both in the U.S. and internationally because they provide an end-to-end solution that integrates seamlessly into our asset and work management processes, use the best available technology, and directly align with our 'safety first' commitment," said Bernerd Da Santos, Senior Vice President and Chief Operating Officer of The AES Corporation, a Fortune 200 global power company. "Measure will help us scale our own drone program to cover our renewable and thermal generation, and transmission and distribution lines."
Measure's introduction of solar inspection services is part of a broader expansion that also includes the launch of new toolkit services for broadcast news organizations, also announced today, and the opening of new offices in Washington D.C., New York and Los Angeles.
More information on Measure's services for the solar sector is at www.measure.com/solar or solar@measure.com.
About Measure
Measure is the nation's leading Drone as a Service® company, providing turnkey solutions to acquire, process, and deliver actionable aerial data and media to enterprise customers. The company has pioneered drone applications in telecom, construction, energy, disaster response, live media coverage and other sectors, utilizing best-in-class drone technology, highly trained pilots and experienced data engineers to execute safe, legal and insured missions that help customers achieve new cost and operational efficiencies. For more information, visit www.measure.com or follow the company at www.facebook.com/MeasureUAS/ and on Twitter at @droneasaservice.
Featured Product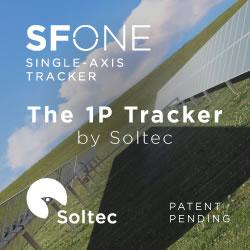 SFOne is the 1P single-axis tracker by Soltec. This tracker combines the mechanical simplicity with the extraordinary expertise of Soltec for more than 18 years. Specially designed for larger 72 an 78 cell modules, this tracker is self-powered thanks to its dedicated module, which results into a lower cost-operational power supply. The SFOne has a 5% less piles than standard competitor, what reduces a 75% the labor time.