Utility scale solar and wind power "on-demand" for 33 percent less than coal
AUSTIN, Texas - July 11, 2017 - ViZn Energy Systems Inc. (ViZn), a leading provider of utility scale energy storage systems, is working to make the sun shine all night by integrating its zinc iron flow battery storage system for a record low price of 4¢/kWh. A ViZn 30 MW, 4-hour system added to a 100 MW solar plant can generate a seven percent internal rate of return (IRR) with a 4¢/kWh power purchase agreement (PPA) - 20 percent below the lowest published values.

Now, utilities can add energy storage to a wind or solar farm at a lower price than coal-fired generation (6¢/kWh per Bloomberg New Energy Finance), paving a clear path toward 100 percent renewable penetration. This calculation is independent from any additional revenue streams derived from the ancillary services made possible by ViZn battery systems.
"The lowest cost and most abundant energy now comes from solar and wind, and these systems can now produce power 24/7 because of energy storage. More importantly, ViZns flow battery systems do it at a fraction of the cost of lithium ion. "Solar Nights™" are now a reality and they are powered by clean, domestically produced, low cost, and infinitely available energy," stated Ron Van Dell, CEO of ViZn Energy Systems.
Currently, leading lithium ion batteries last for only 7 to 10 years and are engineered to provide either one energy service-focused or one power service-focused cycle per day. ViZns full-service zinc-iron flow battery system can deliver both power and energy services for 20 years with no fade and can operate two, full-duty cycles per day. ViZns versatility uniquely enables utilities to balance intermittent renewable energy while dispatching to address high value ancillary services such as frequency regulation, spinning reserve, transmission and distribution deferral, black start, and congestion relief.
"Nearly every utility daily demand curve in the world has a morning peak and a late afternoon peak and almost every solar and wind farm is financed for a 20-year economic lifetime. It is not hard to understand how a fade-free battery that delivers two cycles per day for 20 years is able to contract for output at record low energy storage system prices," further commented Van Dell.
ViZn is currently delivering systems in the U.S., Canada, Central America, Europe, and India. ViZn Energys flow batteries experience zero capacity fade over 20 years and they have full access to 100 percent of their state of charge, giving them significantly more usable output than competitive batteries. They are also uniquely capable of performing both rapid, high-power discharges and slower, long-duration releases at lower power - unlike other comparable storage technologies which can only do one or the other. The inherently safe zinc-iron chemistry uses globally abundant materials and is non-flammable, non-toxic, and is easily recyclable at the end of its life.
About ViZn Energy Systems, Inc.
ViZn Energy Systems, Inc. is an energy storage leader that is deploying a highly versatile zinc-redox flow battery solution for utility, commercial and industrial, and microgrid applications worldwide. The company was founded in 2009 by a visionary team of scientists, engineers, and business leaders who were passionate about creating a revolutionary energy storage solution that can uniquely perform a broad array of power and energy services for up to 20 years while also providing superior return on investment (ROI) on total system costs. Based on eight years of research, the ViZn solution is safe, reliable, cost effective, and scalable to meet the needs of todays ever-changing energy landscape. For more information, visit: www.ViZnEnergy.com
###
Press Contact:
Wendy Prabhu
Mercom Communications, a division of Mercom Capital Group
1-512-215-4452 | vizn@mercomcapital.com
ViZn Energy Systems Inc. Contact:
ViZn Energy Systems, Inc.
1- 630-841-8710
info@ViZnenergy.com
Featured Product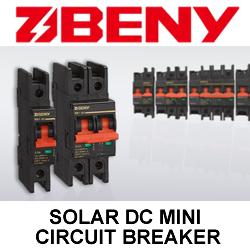 The BB1-63 modular miniature circuit-breakers can be used in solar DC circuits up to 1200 VDC (4-poles execution). Application in solar DC circuits, battery energy storage systems and UPS. Arc flash barrier design keeps solar equipment more safe and reliable. For DC circuit over-current protection.