Under a 25-year agreement, the University will purchase the entire output of a proposed 120-acre solar facility in Middlesex County. The solar facility, developed by Coronal Energy, will be constructed and owned by Dominion Energy. It will produce an estimated 15 megawatts of alternating current, or about 9 percent of the Universitys electric demand.
CHARLOTTESVILLE, Va. - July 20th, 2017 - The University of Virginia continues to expand its portfolio of carbon-free generation and achieve key sustainability targets with another partnership announced today with Dominion Energy.

Under a 25-year agreement, the University will purchase the entire output of a proposed 120-acre solar facility in Middlesex County. The solar facility, developed by Coronal Energy, will be constructed and owned by Dominion Energy. It will produce an estimated 15 megawatts of alternating current, or about 9 percent of the Universitys electric demand.
The UVA Puller Solar facility joins the previously announced UVA Hollyfield Solar facility. In total, the two sites will produce 32 megawatts of solar energy and will offset about 21 percent of the Universitys electric demand.
"Once again UVA is providing public sector leadership on carbon emission reduction and renewable power generation in Virginia," Governor Terry McAuliffe said. "This project, along with UVAs Hollyfield and the Commonwealths Oceana Solar facilities, now means we are nearly halfway to achieving the eight percent renewable procurement goal I set out in 2015. I look forward to working with other public universities to follow UVAs lead and power their educational operations with renewable energy."
Patrick Hogan, the Universitys executive vice president and chief operating officer, cited the collaboration as an important element in the Universitys well-established and growing portfolio of sustainability initiatives.
"Expanding renewable, solar energy in the mix of options the University of Virginia is using will make even bigger strides in our efforts to be efficient, green and sustainable," Hogan said. "The University is pleased to be working with Dominion Energy in yet another venture."
"The University of Virginia has been a vital partner as we continue to make significant progress in the development of renewable energy," said Keith Windle, vice president of Business Development for Dominion Energy. "The solar arrays across the Commonwealth deliver clean energy for our customers, and the University plays a key role in that effort as evidenced by how they put their commitment into action."
The solar facility will enable the University to reduce its carbon footprint by more than 15,000 metric tons a year, as well as reducing more than 19 metric tons of nitrogen, positioning UVA to meet key sustainability milestones. UVA has pledged to reduce its carbon and nitrogen footprints by 25 percent by the year 2025 below 2009 and 2010 levels, respectively. UVA is the first institution to calculate its nitrogen footprint and set a reduction goal.
UVA Senior Vice President for Operations Colette Sheehy said the University has a successful track record on sustainability and energy conservation initiatives, and sees this second solar field as a means to help UVA reach its overall target.
UVAs five-year Sustainability Plan, launched in April 2016, compiles new ideas, as well as feedback generated over the past several years, while building upon the Universitys many existing initiatives, documents and accomplishments to continue to advance sustainability. It puts forth new and existing goals with more than 100 actions to move toward those goals as well as achieve a longer-term vision.
With the Facilities Managements Delta Force program, which pursues deep energy savings, the University has reduced consumption in 51 of UVAs most energy-intensive buildings, which constitute more than 4.6 million square feet of built space. This has contributed to a 10 percent reduction in overall building energy use intensity since 2010.
The UVA Puller Solar Facility was acquired as a development asset from Coronal Energy, a solar development company with regional headquarters in Charlottesville, Va. The facility will feature approximately 58,800 solar panels, enough to power about 3,750 homes at peak output. Construction is slated to start in late 2017, with commercial operations occurring by the end of 2018.
"This project is particularly meaningful to a number of us on the team who call Virginia home," said Kyle West, vice president for real estate for Coronal Energy. "Were delighted to once again partner with Dominion Energy on a groundbreaking solar project, our third major success in the state together. There's also a fair measure of school pride amongst the many UVA alums who work at Coronal, and who are proud to see our work advance the Universitys impressive commitment to reducing the use of fossil fuels."
Dominion now has announced 421 megawatts (alternating current) of large-scale solar facilities in Virginia under development or already in operation. This amounts to enough electricity at peak capacity to power more than 105,000 homes.
About Dominion Energy
Dominion Energy (NYSE:D) is one of the nation's largest producers and transporters of energy, with a portfolio of approximately 26,200 megawatts of generation,15,000 miles of natural gas transmission, gathering and storage pipeline, and 6,600 miles of electric transmission lines. Dominion Energy operates one of the nation's largest natural gas storage systems with 1 trillion cubic feet of storage capacity and serves more than 6 million utility and retail energy customers. For more information about Dominion Energy, visit the company's website at www.DominionEnergy.com.
About Coronal Energy
Coronal Energy, powered by Panasonic, is a leading independent power producer and provider of turnkey solar energy solutions tailored for diverse enterprise customers across North America, including utilities, corporations, and the public sector. It unites the financial strength of a Fortune Global 500 company (#128) and Panasonics award-winning history of solar innovation and sustainability leadership with the project development, finance, engineering, construction, and asset management experience of Coronal EnergyTM. The collective experience of Coronal Energy, powered by Panasonic, includes projects in 40 states totaling 2.3 GW, with more than 3.4 GW of greenfield and brownfield projects under construction/contract or in development. For more, please visit CoronalEnergy.com and follow us @coronalenergy on Twitter.
About UVA Sustainability
UVA has cultivated a sustainability culture from the Grounds up, with more than 30 sustainability-focused student groups, a robust University Committee on Sustainability with dozens of working groups and task forces, an Office for Sustainability with 14 full-time staff, and
several departments with sustainability intertwined in their mission. UVAs Sustainability Plan is framed around three areas: "Engage, Steward, and Discover," to reduce the environmental, social and economic impacts of human activities on the climate, air quality, water quality and usage, other natural resources, and human health through mobilization of educational, operational, and financial resources to achieve significant, quantifiable goals. Steward goals and programs address energy and emissions, water materials and waste, land and building use, food and investment assets. The Engage goals and programs focus on community engagement, equity and wellness, and the Discover goals and initiatives encompass research, curriculum and using the Grounds as a learning tool - connecting academics with on-Grounds practices.
Featured Product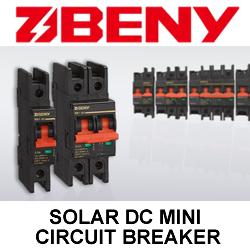 The BB1-63 modular miniature circuit-breakers can be used in solar DC circuits up to 1200 VDC (4-poles execution). Application in solar DC circuits, battery energy storage systems and UPS. Arc flash barrier design keeps solar equipment more safe and reliable. For DC circuit over-current protection.