Princeton-based solar technology company rolls out their updated MiDAS™ unit that not only purifies water for drinking from any water source, but also generates energy for communications through solar power alone. WorldWater is training the US Army's REF personnel on this new equipment that will help ready them for all emergency situations.
In times of natural disaster, catastrophe or wartime, the U.S. Military must always be prepared to provide urgent assistance and relief for those adversely affected. WorldWater & Solar Technologies, Inc. in Princeton, NJ introduces their MiDAS™ (Miniature Deployable Assistance Systems) unit, a stand-alone unit that provides water purification for drinking from salt and fresh water sources. The unit also includes solar panels to generate energy for communications and battery backup. These units enable the military to be ready at a moment's notice for any emergency situation.

WorldWater recently introduced their MiDAS™ unit to the U.S. Army's Rapid Equipping Force's (REF), the U.S. Army's quick-response arm that provides immediate solutions to urgent challenges of their forces deployed worldwide, so the personnel are prepared at any given moment when and if disaster strikes.
WorldWater's Vice President of Operations, Michael Ingles, has been leading the training of military personnel at the REF headquarters in Fort Belvoir, Virginia. Says Ingles, "It's one thing to develop a piece of equipment that works well in the lab and it's another thing to develop a piece of equipment that works well in the field. First and foremost, our equipment is rugged-ized. It is designed to withstand different environmental factors: dry, dusty conditions, salt environments and beyond."
MiDAS™ units are currently used by the U.S. Army AFRICOM (Africa Command), the PACOM (Pacific Command) and the SOUTHCOM (Southern Command).
Says Mr. Ingles about WorldWater and its business across the globe, "Having a robust technology is important -- and is what we have recently trained with the REF. One of the strengths that WorldWater & Solar Technologies has, that allows us to serve the needs of the governments and the citizens in emerging markets, is our staff, including our board and company advisors. It is not enough to have technology that works but also that our staff has experience in international development, whether they are returned peace corps volunteers, they are former or even current aid workers with NGOs, or former military personnel and emergency responders. Their diverse skills allow us to work in nations around the world with the U.S. military and to communicate across this range, having a very open mind to solving problems in innovative ways."
Official training videos of the MiDAS units can be seen here.
The U.S. Military also has deployed WorldWater's PEAK™ (Prepositioned Expeditionary Assistance Kits™) units in Honduras, which are stand-alone units that purify and desalinate up to 1,500 gallons/day of drinking water from virtually any source. The PEAK unit also enables up to 50 remote users to communicate and share information directly with the PEAK central command base. In addition, the military uses the smallest unit, the SHEPS™ (Solar-Hybrid Electrification & Purification System™), which is the size of a medium suitcase. This SHEPS™ can provide up to 100 watts power for 10+ hours and purifies 18-20 gph of drinking water up to 24 hours. All of the WorldWater units are environmentally friendly, producing low noise and zero pollution.
More about the MiDAS™ unit
MiDAS™ is an affordable, self-contained, modular, hybrid-powered system providing portable water purification, communications and situational awareness capabilities. It provides services to small military teams or local responders in support of a wide variety of missions including humanitarian assistance/disaster relief (HA/DR) and operations in remote areas.
About World Water
Since 1984, WorldWater has provided viable solutions for solar electric power and water crises globally, including patented solar-powered systems that can provide electric power as well as pump hundreds of thousands of gallons per day from lakes, rivers and deep wells for irrigation and municipal water supply. The company also produces and installs standalone, portable water filtration technologies that convert sea water and up to 30,000 gallons of polluted fresh water into clean water per day for drinking, cooking and hygiene.
About Michael Ingles
Mr. Ingles provides oversight for the research and development and manufacturing programs within WorldWater & Solar Technologies, Inc. He has been with the WorldWater team since 1996, implementing solar water pumping projects throughout Eastern Africa, Southeast Asia, the Caribbean, and the United States. He has more than 20 years experience in international development and humanitarian aid, with emphasis on renewable energy in the developing world, and guides the development of the product line. Prior to working at WorldWater, he served as a natural resource management consultant with the U.S. Peace Corps in Thailand and worked as a wildland firefighter with the U.S. Fish and Wildlife Service along the U.S./Mexico border. Mr. Ingles graduated with a BS in Geology from the University of Massachusetts at Amherst (1989) and holds a Masters Degree in Energy and Environmental Policy from the University of Delaware (2004).
Featured Product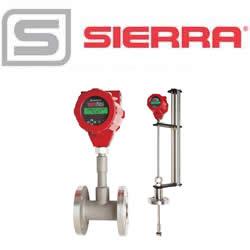 Sierra was the first to introduce a combination volumetric vortex and multivariable mass flow meter in 1997. Today, Sierra's completely redesigned InnovaMass® iSeries™ 240i/241i builds on two decades of success measuring five process variables for gas, liquid and steam with one connection. Now, with the latest hyper-fast microprocessors, robust software applications, field diagnostic and adjustment capability, and a new state-of-the-art flow calibration facility, Sierra's vortex iSeries delivers precision, performance, and application flexibility never before possible.