Energy storage provides flexibilities needed to manage the grid when solar turns on and off, and allows for higher integration of renewable energy and reliable operations
BERKELEY, Calif., Aug. 15, 2017 /PRNewswire-USNewswire/ -- CESA, the California Energy Storage Alliance, assures Californians that energy storage will support the California grid, including in resolving the high 'ramp rates' the region expects, during the rare major solar eclipse on August 21, 2017.

Between 9:02am and 11:54am PDT on August 21st, the California sun will be obscured at 76 percent in Northern California and 62 percent in Southern California. California's biggest grid operator, the California Independent System Operator, expects the eclipse to decrease generation from solar electricity production in its area by about 5,560 MW. During the eclipse, an estimated 3,000 MWs of grid-connected storage in California is expected to support the grid via 'ramping' and by providing energy or other support services.
"Storage is an innovative part of the California grid that provides key capabilities for operating a cleaner and more affordable grid, while also ramping up extremely quickly to meet electricity needs when solar power wanes, as we expect during the August 21st eclipse," explained CESA Policy Director Alex Morris.
Storage can also 'ramp down' particularly effectively, creating space on the grid for when solar resources turn on quickly. This will be key during the eclipse.
"The eclipse is an important example of how energy storage can help the grid. Whether 'front of meter' or aggregated customer-sited storage, energy storage solutions - as part of the electric grid 'tool-kit' - not only provide benefits to the environment and the grid, but can also help customers manage electricity costs," added Morris.
With California's evolving grid - due in part to renewable energy goals and the growing reliance on solar power - the case for energy storage is growing. Energy storage solutions can also absorb excess solar, wind or other power sources, and then provide that power back to the grid during periods of peak demand; or it can provide back-up services, called ancillary services. Storage takes many forms, and even includes aggregations of many smaller storage devices.
"Intelligent energy storage is an essential element of a modernized grid, offering flexibility, reliability and sustainability to electricity management," said John Carrington, CEO of CESA member Stem, Inc. "Moreover, our customers want to be part of an aggregated storage network response and to be part of the solution."
As California's grid planners continue to pursue a cleaner, more reliable and more affordable grid for all Californians, twenty-four hours a day, planning efforts will consider how the grid needs a fleet of resources that ensure reliability, even during eclipses or other challenging grid conditions. The flexibility of energy storage to help the grid in many ways means it will play a greater and greater role.
About CESA
The California Energy Storage Alliance (CESA) is a 501c(6) membership-based advocacy group committed to advancing the role of energy storage in the electric power sector through policy development, education, outreach and research. CESA's 60+ members are leaders in the energy storage industry. Members include technology manufacturers, project developers, systems integrators, consulting firms and other clean tech companies. www.storagealliance.org
Featured Product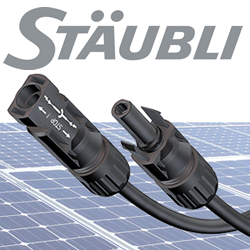 ​Stäubli Electrical Connectors are used on more than 300 GW, over 50% of the PV capacity worldwide. The MC4 family of UL and TUV listed products include connectors, in-line fuses, branch connectors, cable assembly and more.