HelioPower wins approval for reorganization and emerges from Chapter 11 Bankruptcy, becoming a success story in the renewable energy sector.
HelioPower, Inc. a leading provider of integrated energy solutions, announced today that it has successfully completed its corporate and financial reorganization. The reorganization plan, under Chapter 11 of the United States Bankruptcy Code, substantially de-leverages the companys ongoing business and stabilizes the financial health of the business.

"This is a significant day for HelioPower," said Mo Rousso, President and Founder of HelioPower, "Weve accomplished a complex restructuring in a very short time period and with our strengthened financial flexibility, we will now focus on our industry leading capabilities by providing integrated energy solutions to homeowners and businesses alike."
HelioPower filed its Chapter 11 petition less than 4 months ago, on April 25, 2017. The U.S Bankruptcy Court for the District of Nevada approved HelioPowers Plan of Reorganization on August 16 and, with all conditions having been met, HelioPower is cleared to emerge from Chapter 11.
"It is with deep satisfaction that we close this challenging chapter of HelioPowers story, emerging from bankruptcy as a stronger company." Mo continued, "We thank our creditors for working with us to make this new beginning possible, as well as our employees, our customers, our suppliers and our advisors. We look forward to returning to focus on providing high quality integrated energy solutions to our customers."
About HelioPower, Inc.
HelioPower, Inc is an integrated energy solutions company based Murrieta, California. The company helps its clients reduce energy costs and develop energy assets by leveraging renewable energy production, demand side management, and return on investment strategies for clients in the U.S. and abroad. HelioPower employs a diversified approach to providing renewable energy technologies and load reduction expertise. Because needs can vary greatly among energy consumers, HelioPower is committed to helping its clients understand their unique energy challenges to deliver customized, cost-effective services and products to reduce energy costs.
Featured Product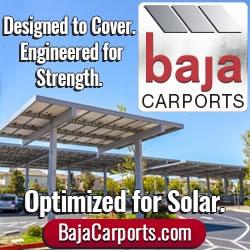 Baja Carports offers an extensive solar support system product line customized to customers' site specifications by in-house engineers, meeting their parking lot coverage, plus optimal PV production needs. Baja's Full Cantilever Tee is often paired with its Semi and Full Cantilever carports to meet live/loads up to 60psf and wind speeds to 160mph. All Baja products are pre-fabricated, bolted connections, pre-galvanized structural steel for fast on-site installation and project aesthetic requirements."