On the Heels of the Success of PowerXT® rooftop modules, Solaria Introduces PowerVision™-150 to the Electrical and Solar Distributor Market; Pairing Vision Glass with Power Generation Transforms Skylights, Canopies, Patios and Atriums Into Architecturally Aesthetic Energy-Producing Structures. Solaria is exhibiting at booth #1048 at Solar Power International 2017
On the Heels of the Success of PowerXT® rooftop modules, Solaria Introduces PowerVision™-150 to the Electrical and Solar Distributor Market

Pairing Vision Glass with Power Generation Transforms Skylights, Canopies, Patios and Atriums Into Architecturally Aesthetic Energy-Producing Structures
FREMONT, CA, SEPT. 6, 2017 - Today Solaria Corporation, global provider of solar modules and technology, announced that it is introducing its PowerVision™-150 product to the electrical and solar distributor markets. Endorsed by leading glass and fabrication companies including Pilkington, AGC, and Walters & Wolf, Solaria PowerVision empowers the transformation of building facades, skylights, canopies and other structural components into power-generating assets. Deployment of Solarias patented technology —which leverages the reliability and efficiency of crystalline silicon technology— enables structures to generate electricity cleanly and reliably.
"By reimagining commercial and residential building structures, Solaria has devised its PowerVision glass in inventive new ways so that nearly every aspect of a building envelope —beyond the rooftop— can generate electricity," said Nick Bagatelos, President of Bagatelos Architectural Glass Systems, Inc. "PowerVision builds on the success of PowerXT to enable building owners and developers to turn skylights, windows and building facades into electricity-generating assets. Seamlessly integrated and easily installed into building designs, Solarias patented PowerVision transforms buildings into on-site clean power plants."
"Theres increased demand to evolve building designs to incorporate more solar solutions, and construct, when possible, high performance, Net Zero Energy structures," noted Solaria CEO Suvi Sharma. "Buildings currently account for forty percent of the worlds energy use — to power light, heat, cool buildings. Now architects, developers and builders can deploy solar EVERYWHERE - in skylights, windows and building facades, as well as on rooftops."
Solarias unique solar cell process technology has allowed the company to develop an architecturally beautiful vision glass that can be used in locations not typically associated with solar panels; these include skylights, patios, and window openings, providing a see-through surface that generates electricity. Building owners and occupants accrue many benefits - as solar-outfitted windows mitigate the sunlights effect on a building. When combined with high-efficiency solar PV modules, together they offer a seamless strategy to unlock the full power potential of buildings with technologies that boost energy generation, providing high yield at a low cost.
Extensively tested and demonstrated at Lawrence Berkeley National Laboratorys FLEXLAB, Solaria PowerVision has proven to deliver a unique combination of high performance and high power density with optimized thermal performance, effective daylighting, and glare control.
About Solaria Corporation
Solaria Corporation is a solar technology company that is paving the way for distributed, clean power generation through optimized solutions for a range of applications. Leveraging its proven core technology, field performance and sophisticated automation, Solaria delivers solutions that make solar power economically and aesthetically more attractive. Solaria headquarters are in California. For more information, please visit www.solaria.com.
Featured Product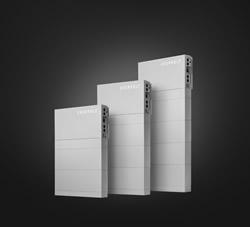 Renewable energy stored in an EVERVOLT home battery system is the perfect backup plan against an uncertain utility grid and weather events. Run key appliances longer and live life when the unexpected happens. EVERVOLT battery storage systems are covered by a complete 12-year warranty from Panasonic.