By positioning EV & HEV motor suppliers along a specific route through the show, CWIEME Chicago hopes to instigate new and exciting partnerships in this rapidly growing field.
As electric vehicle (EV) and hybrid electric vehicle (HEV) technology continues to cement itself as the future for the automotive industry, CWIEME Chicago will introduce a dedicated HEV & EV Trail at its 2017 exhibition, taking place at the Donald E. Stephens Convention Center between 3-5 October.

By positioning suppliers of HEV & EV motors along a route through the show, the leading exhibition for coil winding, transformer and electric motor manufacturing aims to make it even easier and more efficient for visitors and exhibitors to connect with the right business partners.
Participants in the EV Trail will include Tempel Steel Co, Saint-Gobain Performance Plastics, Nittoku America, Inc., Wieland Metals Inc., Breuckmann GmbH & Co.KG, and many more.
"The introduction of the EV Trail reflects an important change in the CWIEME community around the world," says Haf Cennydd, CWIEME portfolio director. "We are seeing increased attendance from automotive OEMs - Tesla Motors is now a regular participant - while exhibitors are launching new products, tailored to the needs of hybrid and electric vehicle motor designers."
At CWIEME Berlin in June, ArcelorMittal launched the second generation of its iCARe® electrical steels, while Essex Furukawa presented its new high voltage winding wire - both specifically for EVs.
CWIEME Chicago will also host a series of special sessions between 4-5 October that will focus on key electric motor and powertrain developments, as well as advancements in core adjacent EV technologies, from battery technology to interoperability. The discussions will be led by speakers from McKinsey, Tesla, Mississippi State University, Protean Electric, DHX Machines, University of Kentucky, Charged EV and more. Together, they will look to explore the opportunities and challenges in making EV the dominant reality across domestic and commercial transportation systems over the next five years.
A growing market with growing opportunities
Once previously a relatively niche application for electric motors, hybrid and electric vehicles are rising in popularity. According to a McKinsey & Company seminar at CWIEME Berlin, more than 200,000 electric vehicles were sold in Europe last year - a 110% increase from 2014. While they still represent only 2% of the overall automotive market, sales are on a growth curve - moving from innovators to early adopters. In a 2016 McKinsey survey, 30-45% of US and German vehicle buyers said they would consider an EV purchase in the near future.
"Governments around the world have pledged to reduce CO2 emissions, while metropolitan mayors in cities, such as Mexico City, Paris and London, are taking a strong stance on air quality in their regions," said Prof. David Greenwood of Warwick Manufacturing Group at CWIEME Berlin. "Consumers are thinking twice about purchasing diesel cars they might not be able to drive everywhere they want to. At the same time, consumers are starting to realise that EVs are quieter, more comfortable and have better driving characteristics."
Cennydd adds: "Rapid technological progress combined with tipping points in consumer behaviour make it difficult to predict exactly when the EV market will reach its potential but we are seeing a lot of investment in electric motor design, materials and manufacturing for this application. Since it is such a new area, there is not an established supply chain, meaning there are huge opportunities for the CWIEME community to grow along with the market. We look forward to supporting this growth at CWIEME Chicago this October."
Featured Product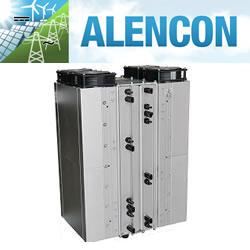 Alencon Systems is the premier manufacturer of high power, high voltage DC:DC optimizers for alternative energy applications including solar, battery energy storage, Microgrids, Fuel Cells and Electric Vehicle charging. Alencon's DC:DC converter offerings include the SPOT, BOSS and CUBE series DC:DC converters. The SPOT is a modular, uni-directional DC:DC solution ideal for solar applications. The BOSS is a modular, bi-directional unit for use with battery energy storage. The CUBE is a monolithic DC:DC converter which is available in both uni-directional and bi-directional modalities. Pictured above, is the Alencon SPOT.