Six schools will meet district goals of lower utility bills and grid outage protection
SALINAS, Calif. - September 6, 2017 - Generate Capital and Sharp Electronics Corporations Energy Systems and Services Group (Sharp) today announced the groundbreaking of a six-site solar PV and SmartStorage® energy storage installation with the Santa Rita Union School District (SRUSD) in Salinas, California. With project developer SolEd Benefit Corporation and construction company MBL Energy, Generate Capital will build over one megawatt of solar production, integrated with 1.2 MWh of Sharps SmartStorage® behind-the-meter energy storage systems. The systems offer the district a variety of long-term benefits: renewable energy from Californias most abundant resource, savings on expensive utility bills, battery back-up and microgrid capabilities for resiliency, and educational opportunities for the districts elementary and middle school students.

The SRUSD installations will be among the first projects deployed under Californias revival of the Self-Generation Incentive Program (SGIP) supporting solar PV and energy storage installations for customers in California. Generate Capital President Jigar Shah said of the project, "Generate is proud to accelerate the deployment of solar-plus-storage systems to bring cost-saving, clean energy solutions to schools, municipalities, and businesses across California." Depending on the time of year, the SRUSD solar-plus-storage systems can supply as much as 70 to 80 percent of the schools electricity needs.
"This is a precedent-setting project, because, in addition to providing substantial utility bill savings, the SmartStorage® system will also provide backup power for critical school loads in the event of a grid outage," said Carl Mansfield, General Manager of Sharps U.S.-based Energy Systems and Services Group. "In the past, commercial buildings have relied on expensive diesel engine generators to provide backup power. This project will demonstrate that renewable power generation coupled with a SmartStorage® system is now a viable, bankable, cleaner alternative for backup power applications."
Generate Capital is a leading capital partner for solar-plus-storage innovators in the United States. The SRUSD projects represent one of the first solar plus storage projects supported by Californias recently restructured SGIP. With one of the largest behind-the-meter energy storage portfolios in North America, Generate Capital partners with project developers, technology vendors, and solution providers to build money-saving, environmentally beneficial infrastructure.
Sharps intelligent energy storage solution pairs with solar PV systems to work synergistically, reducing utility costs by pulling power from the SmartStorage® batteries rather than from the utility at the times of highest demand, an operation that is particularly well-suited for schools where utility bills are often one of the highest expenses. In the case of a grid outage, Sharps software will then enable the transition to microgrid operation with little disruption to school operations. This capability helps shields the district from grid outages caused by rolling blackouts, brownouts, or severe weather events and minimizes disruptions to the school day for students, parents, and faculty.
"California school districts face extremely challenging budgeting situations and any reduction in operational expenses can directly translate into money for teachers, books, or supplies," said Dr. Shelly Morr, superintendent of SRUSD. "It is also important for our community that schools arent impacted by events such as power outages as this disrupts not just the school day, but parents having to leave work early or scramble to make other arrangements for their children. Were excited to see these precedent-setting clean energy systems implemented on our school campuses."
About Generate Capital
Generate Capital, based in San Francisco, California, is a leading financier, owner and operator of distributed energy and resource infrastructure. With a permanent capital base, flexibility to meet a range of needs, and deep domain expertise in technology, energy and resource sectors, Generate partners with the innovative companies and project developers who are leading the Resource Revolution, building infrastructure that does more with less of our critical natural resources such as energy, water, food and materials. For more information on Generate Capital, please visit: www.generatecapital.com.
About Sharp Electronics Corporations Energy Systems and Services Group
Sharp Electronics Corporation (SEC) is the U.S. division of Sharp Corporation, a worldwide developer and manufacturer of one-of-a-kind premium technology products. SECs Energy Systems and Services Group (ESSG) focuses on developing innovative energy management products for the U.S. market. ESSG introduced the SmartStorage® behind-the-meter energy storage system, an energy storage solution designed to reduce peak demand usage for commercial and industrial buildings. Sharps industry-first 10-year performance guarantee is included with their 10-year operations and maintenance service agreement, an option available for all SmartStorage® system installations. Sharps integrated SmartStorage® solar hybrid solution is available with no money down financing options. For more information, visit: https://www.sharpsmartstorage.com.
About SolEd Benefit Corporation
SolEd is a California benefit corporation, driven by the mission of saving schools and public benefit organizations as much as feasible, while helping them be environmental leaders. To learn more about SolEd, visit: http://sol-ed.com/
About Santa Rita Union School District
The Santa Rita Union School District (SRUSD), located in the heart of the Salinas Valley, is composed of approximately 3405 students from Pre-School through Eighth Grade. Made up of four elementary schools and two middle schools, all located within a five mile radius, the district is characterized by rich cultural and linguistic diversity and a 'home town' feel. The vision and mission of the SRUSD, a dynamic educational organization, is to ensure that all students will be provided an appropriate, challenging instructional program, enabling students to become contributing members of a global community, by providing opportunities to develop academic and social skills in a nurturing environment. http://www.santaritaschools.org/
###
Media Contact:
Wendy Prabhu, Mercom Communications (a division of Mercom Capital Group)
Tel: 1.512.215.4452
sharp@mercomcapital.com
Featured Product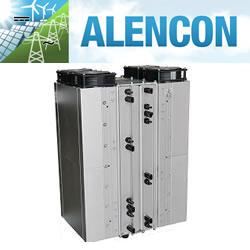 Alencon Systems is the premier manufacturer of high power, high voltage DC:DC optimizers for alternative energy applications including solar, battery energy storage, Microgrids, Fuel Cells and Electric Vehicle charging. Alencon's DC:DC converter offerings include the SPOT, BOSS and CUBE series DC:DC converters. The SPOT is a modular, uni-directional DC:DC solution ideal for solar applications. The BOSS is a modular, bi-directional unit for use with battery energy storage. The CUBE is a monolithic DC:DC converter which is available in both uni-directional and bi-directional modalities. Pictured above, is the Alencon SPOT.