Introduces Expanded PACE Offering for Energy Efficient Upgrades
SAN FRANCISCO, Sept. 7, 2017 /PRNewswire/ -- Spruce Finance Inc., a provider of consumer financing for residential energy efficiency improvements, including solar systems, today announced several developments that position the company for long-term success. In October, the company will release a new version of its software platform to allow Property-Assessed Clean Energy (PACE) financing for all eligible residential energy efficient installations. The company recently closed a new tax equity financing facility which gives its contractor partners continued access to competitively-priced leases and power purchase agreements (PPAs) for residential solar systems. The company also appointed credit and risk management expert Rob Kottmeier as its chief credit officer.

"These moves will help Spruce better serve our contractor partners in the energy efficiency industry," said Steve Olszewski, CEO of Spruce. "With the expansion of PACE in our product offering and enhanced credit management expertise, we're excited to bring a one-stop-shop solution to our contractor partners and expand homeowners' access to financing for energy efficient upgrades."
Industry-First Platform with Comprehensive Product Suite
Spruce offers the broadest set of financing options for homeowners on a single platform. Providing homeowners with access to the financing that best fits their needs through a "one-stop" application process that enables contractors to close more deals.
Spruce will expand PACE financing options on its SpruceFlow platform to include all energy efficiency home improvements in participating California municipalities in October. PACE allows homeowners to make renewable energy, energy efficiency, water conservation and seismic upgrades to their homes with no upfront costs and to pay for them at a fixed interest rate over time through an additional line item on their property taxes. PACE financing payments may have tax benefits, and many property owners who use PACE see immediate savings on their utility bills.
New Tax Equity Facility
The company recently closed on a tax equity financing facility to support continued growth in Spruce's residential solar PPA and lease business.
In 2016, Spruce partnered with US Bank on tax equity to finance approximately $175 million in residential PPAs and leases and raised $245 million in project debt financing from Investec and Silicon Valley Bank to support residential solar systems. This transaction with a new partner helps to diversify the company's funding profile.
Appointment of Chief Credit Officer
Spruce has appointed credit veteran Rob Kottmeier as chief credit officer to join Spruce's executive team. With more than 20 years of experience in credit and risk management, Kottmeier will bring his expertise to ensure the continued quality of Spruce originations.
Prior to joining Spruce, Kottmeier served as chief credit officer at Breakout Capital, a small business lender, where he developed and implemented its initial credit policy and models. Previously, he was chief credit officer at GreenSky, where he developed credit policy, pricing and portfolio management strategies to enable significant growth in the company's loan portfolio. Kottmeier spent more than 16 years at Capital One's U.S. Credit Card business, where he served a variety of roles, with concentrations in credit risk management, fraud and exposure management, new customer acquisition, product valuation and underwriting across consumer and small business card products.
The hiring of Kottmeier comes on the heels of recently announced additions to Spruce's leadership team and an infusion of capital, as well as the appointment of two independent directors.
About Spruce Finance
Spruce Finance provides homeowners with multiple ways to finance residential energy efficiency improvements and solar systems. This helps people reduce their utility bills and improve their homes and communities. We make our finance products available on a single software platform and sell them through a national network of verified channel partners. Our platform simplifies the sales experience for our channel partners and helps them sustainably grow their businesses. A private company headquartered in San Francisco, we operate in all 50 states and Washington, DC. We have raised more than $2B in project finance and currently serve nearly 70,000 homeowners. To learn more about the company, visit www.sprucefinance.com.
Featured Product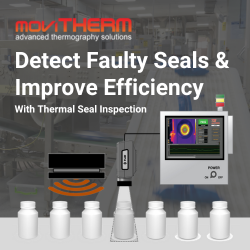 MoviTHERM's Thermal Seal Inspection (TSI) solution provides precise and reliable detection of defects in a variety of packaging types, including pouches, bags, blister packs, bottle caps, and more. By detecting defects in your packages, the TSI solution helps increase efficiency in your production line and ensures top-quality packaging is delivered to your customers every time. With state-of-the-art technology and an experienced team, MoviTHERM is dedicated to delivering accurate inspection solutions and peace of mind to its clients. Contact MoviTHERM today to learn more about their thermal seal inspection solution.