Solar Design Software Company Creates Fast, Easy, and Accurate Roof Modeling Tool
PALO ALTO, Calif., Sept. 11, 2017 /PRNewswire/ -- Aurora Solar Inc., a solar design software company, has created SmartRoof, a tool that allows anyone to accurately and easily model residential and commercial sites for solar projects. SmartRoof intelligently infers the internal structure of a roof after a few clicks, reducing solar design time and difficulty.

KEY HIGHLIGHTS:
SmartRoof automatically infers the internal structure of any roof, requiring just an outline of the perimeter of the roof.
SmartRoof allows solar designers to drag and drop dormers into the model, integrating them into their respective roof planes seamlessly.
The remote site modeling tool enables designers to insert folds and intersect multiple roof structures, making modeling of complex roof structures significantly easier.
BENEFITS:
A permit-ready 3D model can be created in Aurora in under a minute with SmartRoof.
The site modeling process is simplified, reducing the barriers to entry for solar professionals to create reliable models.
The resulting 3D model has clean edges, right-angled corners, and evenly tilted roof planes, giving designers and solar salespeople alike the ability to easily create permit-ready models.
QUOTES:
Jeffrey Benson, Senior Manager, Blue Raven Solar: "The new design tool has literally cut our design time in half. Our designs are now significantly more accurate and better looking with perfect angles and evenly sized roof planes. Between the accuracy and speed gains with this tool, it saves us real money."
Christopher Hopper, CEO, Aurora Solar: "We started Aurora with the goal of developing technology that would enable anyone to design solar easily and quickly, without sacrificing quality. An accurate roof model is foundational to the residential solar design process, so we set out to rethink the modeling process from the ground up. After over a year of development, we're proud to introduce SmartRoof: a novel way to model roofs that has the potential to revolutionize solar design."
About Aurora Solar
Aurora Solar is a fast-growing, venture-backed startup. Its product is a cloud-based solar PV design and proposal software that generates 3D models of buildings, runs sophisticated performance and financial analyses, and creates beautiful proposals for customers. Aurora is used to design over 12,000 new solar projects per week across the globe. For more information, visit www.aurorasolar.com.
Featured Product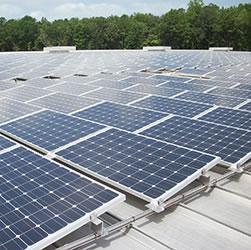 The Power Rail™ Commercial Mounting System is designed with the professional PV solar installer in mind. Both the XD/UD and LD/MD rails feature single tool assembly with the revolutionary patented RAD™ Lock-in-Place bolt for fast and secure module clamping. The high strength marine-grade aluminum rails include an integral wiring channel for securing cables and providing a professional finish.