The UL 9540-listed Harbor Plus™ and Harbor Flex™ smart batteries are on display this week at Solar Power International in Las Vegas.
Pika Energy, Inc.s Harbor Smart Battery product line now features expanded energy storage capacities and reduced pricing, the U.S.-based manufacturer announced today.

Pika Energy has sold out the Harbor Smart Batterys beta production run, with units shipping throughout the United States and Canada. The Harbor Smart Battery is on display at Solar Power International in three booths at Las Vegas Mandalay Bay Convention Center: Pika Energy (booth #2014), Panasonic (booth #6701) and Allied Building Products (booth #3983).
The Harbor Smart Battery, co-developed with Panasonic, is now available in two configurations: Harbor Plus, with 15.9kWh of usable capacity, and the Harbor Flex, with 10.6kWh of usable capacity that can be expanded to 15.9kWh at a later time. Both models were recently certified to UL 9540 and are available to order now.
"With these optimizations to usable stored energy capacity and product pricing, were focusing the Harbor Smart Battery product line on two key segments of the solar-plus-storage market: Buyers who want serious backup power and more stored energy will choose the Harbor Plus, while buyers seeking a battery at a competitively-priced entry point with future-forward scalability will choose Harbor Flex," said Rob Smart, Pika Energys Director of Strategic Partnerships.
Both the Harbor Plus and Harbor Flex are DC-coupled as part of the Pika Energy Island™ for seamless solar-plus-storage with high efficiency and simple installation. The solar-ready Harbor Smart Battery combines Panasonics DCB-105 lithium ion battery modules with Pika Energys REbus™ power electronics in a slim, floor-standing, wall-mounted enclosure. The Harbor Smart Battery is assembled onsite using Pika Energys SwiftRack™ installation process for plug-and-play setup of lithium ion battery modules, requiring no lifts or large teams of installers.
Harbor Plus provides 6.7kW of continuous power through the transformerless Pika X7600 Islanding Inverter™, and can surge at 10kW to start essential residential loads, such as well pumps and HVAC equipment. Harbor Flex offers a competitively-priced smart battery solution with more usable power capacity than other DC-coupled systems in its size class. Both models can be used for clean backup power, self-supply and other solar-plus-storage applications.
For system integrators, the simplicity and price-performance of the Harbor Smart Battery set it apart from other grid-tied battery systems, said Ben Polito, Pika Energys President and Co-Founder. "A single person can install and commission a Harbor Smart Battery in less than an hour," Polito said. "Harbor is assembled on-site, with a modular design enabled by our SwiftRack installation process. Combined with our transformerless inverter, were offering a vast improvement over heavy wall-mounted battery systems and outdated multiple-inverter configurations that suffer from low efficiency, extraneous hardware and complex installations."
Featured Product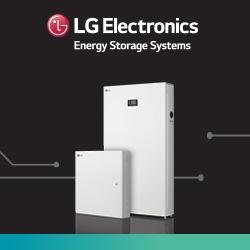 LG Solar is transforming today's solar landscape, offering precision-manufactured and high-efficiency solar panels for homeowners who demand high performance, reliability and consistently strong energy yield from a brand they can trust. LG modules feature outstanding durability, appealing aesthetics and high-efficiency technology, backed by a limited 25-year product, performance and labor (up to $450) warranty. Homeowners who purchase LG Solar modules know they're protected by a diversified global brand.