Some of the 38,000 U.S. solar manufacturing workers in CA, MD, MS and NC share their stories; Two foreign-owned firms could cost their jobs and hundreds of thousands of others
LAS VEGAS, Nev. - In front of more than 18,000 people at Americas biggest solar energy event, the Solar Energy Industries Association (SEIA) debuted a video profiling the personal stories of American manufacturing workers whose jobs are at risk due to a national trade case initiated by two foreign-owned firms.

The U.S. International Trade Commission will decide by Sept. 22 whether the U.S. government should intervene to support these two foreign-owned firms, a move that could leave many of these people without jobs and decimate one of Americas fastest-growing industries.
"The solar industry is an American success story, and the 38,000 American workers in the solar manufacturing sector are a huge part of that story," said Abigail Ross Hopper, SEIAs president and CEO. "Two foreign-owned companies have put these American workers jobs at risk. Its important that policymakers hear directly from the Americans whose livelihoods are at stake with this trade case."
The U.S. solar industry today employs more than 260,000 Americans. Because many of these jobs — 67 percent — do not require a Bachelors Degree, the industry has become increasingly accessible to Americans of diverse backgrounds.
SEIA estimates that trade penalties would put one-third of those people, or 88,000 Americans, out of work in the first year. But as Schletter CEO Russell Schmit points out, the solar industry is supported by three to five times as many other workers in businesses that do not consider themselves part of the solar industry. More than 1 million workers would be impacted if the government provides trade assistance since that will raise the cost of solar and slash demand.
Last week, SEIA released a report profiling some of the 600 American solar manufacturing companies who are thriving in the marketplace. These American businesses employ more than 38,000 workers, many in rural towns across the country. They produce steel and polysilicon, inverters and trackers, cells and panels, and racking and mounting systems.
A sample of the companies profiled in the report and video include Attala Steel, a Mississippi-based company who employs 100 workers; RBI Solar, an Ohio-based company with 325 employees; Schletter, a manufacturer with 200 employees in North Carolina; Standard Solar, a Maryland-based company, and Swinerton Renewable Energy, with headquarters in California and locations throughout the U.S.
The steep decline in solar prices have helped these companies and the entire U.S. solar industry grow at a rapid pace. In fact, the industry grew 17 times faster than the rest of the economy last year, creating 1 out of every 50 new U.S. jobs — 51,000 in total. Trade penalties, however, would more than double the cost of solar, according to independent analysis from Bloomberg and IHS Markit, and upend the market.
"If the prices go up artificially because of these tariffs to protect two very small companies, then were going to lose business," said Russell Schmit, president and CEO of North Carolina-based manufacturer Schletter, Inc. in the video. "Were going to lose employees. And it could be half of our employees who end up being unemployed as a result of it."
Mark Walters, a Sunrun worker in Maryland, explained in the video what his job means to him: "Its really important to me because of my family. I have two kids at home who rely on this every single day from me. I grew up on it. Its all I know."
The U.S. solar market is forecast to triple in the next five years, bringing the total employment in solar to more than 300,000 workers. A GTM Research report in June said trade penalties would immediately halt this growth, cutting national demand for solar in half over the next five years.
###
About SEIA®:
Celebrating its 43rd anniversary in 2017, the Solar Energy Industries Association® is the national trade association of the U.S. solar energy industry, which now employs more than 260,000 Americans. Through advocacy and education, SEIA® is building a strong solar industry to power America. SEIA works with its 1,000 member companies to build jobs and diversity, champion the use of cost-competitive solar in America, remove market barriers and educate the public on the benefits of solar energy. Visit SEIA online at www.seia.org.
Featured Product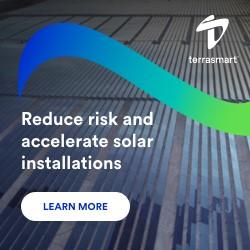 We push the limits in renewable energy, focusing on innovation to drive progress. Pioneering new solutions and ground-breaking technology, and smarter ways of working to make progress for our clients and the industry.