Independent review by Nationally Recognized Testing Laboratory validates SunLinks commitment to meeting the highest safety, reliability and quality standards
LAS VEGAS--(BUSINESS WIRE)--SOLAR POWER INTERNATIONAL - SunLink Corporation, a leading full-scope solar energy solutions provider, announced today that its TechTrack Distributed single axis tracker is now ETL certified to the UL 3703 standard. This certification was secured after independent review and rigorous safety testing by Intertek to meet the industrys highest standards for solar tracking system functions with regard to risk for electrical, mechanical and fire hazards. Intertek, a Total Quality Assurance provider, is a Nationally Recognized Testing Laboratory approved by the U.S. federal agency Occupational Safety and Health Administration (OSHA).

Last year TechTrack Distributed achieved its ETL classification to UL 2703, which required rigorous safety testing such as humidity and temperature cycling to ensure all components remain properly bonded in outdoor environments. The recent testing to UL 3703 included a complete construction evaluation of the system and performance testing to ensure safe operation. TechTrack Distributeds maximum system voltage of 1500V is also covered by the UL 3703 certification.
"TechTrack Distributed is the most technologically-advanced tracker on the market today designed to maximize generation potential," said Michael Maulick, president and chief executive officer of SunLink. "Attaining certification to the UL 3703 standard is testament to our engineering heritage and prowess that created the industrys most advanced tracker system combining structural, electrical, mechanical and software applications."
Central to TechTrack Distributeds system innovation is a dynamic design feature called Dynamic Stabilization. Beyond simply adjusting tilt, SunLinks TechTrack Distributed incorporates real-time control over the damping and stiffness of the array, opening a completely new solution space for increasing energy output, maintaining structural integrity and lowering cost.
In addition, TechTrack Distributed solves the challenge associated with monitoring the thousands of distributed trackers with SunLinks VERTEX Project Intelligence Platform. VERTEX enables next-generation data monitoring and secure remote control, which provides greater visibility into energy assets, historical data collection and more efficient O&M -- resulting in more valuable energy projects.
About SunLink
SunLink Corporation brings powerful solar energy solutions to market through innovative, highly engineered products, in-demand customer services and best-of-breed software that make solar PV electricity easier, safer, more reliable and less expensive to install. In addition to bringing to market well-designed products that are agile in their implementation, the company leverages unparalleled R&D, a legacy of gigawatts of successful projects, state-of-the-art engineering and creative problem solving to develop optimized, full-scope product+service+software solutions for roof and ground-mount solar projects of every size and complexity. It is this unique combination of trusted insights, products, services and EnTech convergence that helps solar developers and installers overcome obstacles and furthers the industrys shared mission of advancing universal solar power adoption. For more information, visit sunlink.com or follow twitter.com/sunlink.
Featured Product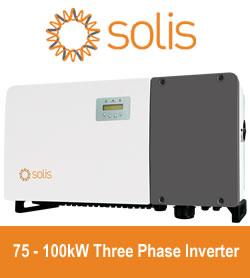 Solis75kW - 100kW series high-power string inverters are widely used in industrial and commercial rooftops. Solis's new three-phase string inverter is the first choice for industrial and commercial photovoltaics. 75-100kW three phase series string inverter have Maximum 28 strings input, support "Y" type connection in DC side. Maximum string input current 13A, support bifacial modules access.Supports anti-PID function to improve system efficiency.