Fully Integrated Solar combines rooftop solar from Vivint Solar with a ChargePoint Home electric vehicle (EV) charger, home battery system and intelligent energy management from Vivint Smart Home
LEHI, Utah, Sept. 12, 2017 /PRNewswire/ -- Vivint Solar, Inc. (NYSE: VSLR), a leading full-service residential solar provider, today announced a strategic agreement with ChargePoint, the world's largest electric vehicle (EV) charging network, to offer ChargePoint® Home charging solutions and custom installations directly to residential customers.

Vivint Solar will work with ChargePoint and other strategic collaborators to provide Fully Integrated Solar, the industry's most comprehensive residential product suite featuring a solar energy system, EV charger, home battery and smart home technology for intelligent energy management. By leveraging best-in-class energy technologies, Fully Integrated Solar from Vivint Solar enables consumers to build their own clean-energy ecosystems at home.
"We're proud to work with ChargePoint and our other partners to assemble this impressive suite of sustainable energy solutions that we refer to as Fully Integrated Solar," said David Bywater, CEO of Vivint Solar. "Vivint Solar is the only residential solar provider that offers rooftop solar customers a one-stop shop to meet their clean energy needs with this suite of capabilities. Homeowners who want to embrace clean energy can trust Vivint Solar to make their transition easy and simple by either purchasing the complete home solar solution or by buying the elements they need now with the option of adding others later. It is completely flexible and customizable."
Compatible with any EV, ChargePoint Home brings innovation to the home garage, offering the smartest, smallest and most advanced home charging solution for EV drivers. The first and only home charger with ENERGY STAR certification, ChargePoint Home charges EVs up to six times faster than a standard 110V outlet, delivering up to 25 miles of Range Per Hour and using 40 percent less energy than a standard EV charger when not charging. ChargePoint Home features a compact, slim design and is easy to manage with an app that enables drivers to schedule charging, start charging remotely and track energy usage and all charging in one place.
When EV drivers need to charge away from home, they can count on more than 40,000 ChargePoint charging spots across North America. ChargePoint is the only charging company that offers a suite of solutions to serve EV drivers everywhere they go: at home, at work, around town and on a trip.
"We're committed to getting everyone behind the wheel of an EV with solutions that enable drivers to charge everywhere they live, work and play," said Colleen Jansen, chief marketing officer, ChargePoint Inc. "Along with unprecedented EV adoption, we're seeing growing interest in solar among drivers, so we're excited to partner with Vivint Solar to offer a complete solution that not only enables people to choose to drive electric, but also charge up conveniently at home with solar energy."
Vivint Solar provides consumers an expansive solution for powering their homes and vehicles with renewable energy. Earlier this year, Vivint Solar expanded its core rooftop solar offering to include smart home energy management capabilities and home energy storage. With today's addition of ChargePoint Home residential chargers, Vivint Solar is now consumers' simplest way to find, install and service the most comprehensive suite of renewable energy technologies for the home.
Fully Integrated Solar from Vivint Solar will help enable customers to optimize both their energy production and consumption. First, the customer's Vivint Solar photovoltaic system produces clean energy, which can then be stored in a home battery storage system. Without any effort from the consumer, the battery system intelligently delivers energy to the home depending on electricity rates, and provides a backup power source for the home if the grid goes down. An integrated energy management system from Vivint Smart Home uses artificial intelligence to help customers further reduce their energy usage. For example, a smart thermostat can reduce heating and cooling costs by 10-15 percent. Finally, the addition of ChargePoint Home enables the customer to charge their EV at home while expanding the benefits of solar energy to their mode of transportation.
This new fully integrated offering reflects the ongoing effort of Vivint Solar to directly respond to the needs of customers. According to a study from Research Now, many consumers are interested in bundling a residential solar energy system with other emerging energy technologies, such as a smart home system (54 percent), home battery storage (46 percent), and an EV charging station (28 percent).
Vivint Solar will offer the ChargePoint EV solution directly to homeowners in select markets in California. Customers will be able to buy the complete home solar solution - or customize a package based on their needs - through Vivint Solar's personal sales representatives.
Learn more about Fully Integrated Solar from Vivint Solar at www.vivintsolar.com.
About ChargePoint
ChargePoint is the largest electric vehicle (EV) charging network in the world, with charging solutions in every category EV drivers charge, at home, work, around town and on the road. With more than 40,000 independently owned charging spots and more than 7,000 customers (businesses, cities, agencies and service providers), ChargePoint is the only charging technology company on the market that designs, develops and manufactures hardware and software solutions across every use case. Leading EV hardware makers and other partners rely on the ChargePoint network to make charging station details available in mobile apps, online and in navigation systems for popular EVs. ChargePoint drivers have completed more than 27 million charging sessions, saving upwards of 27 million gallons of gasoline and driving more than 647 million gas-free miles. For more information, visit www.chargepoint.com or contact the Media Relations team at media@chargepoint.com.
About Vivint Solar
Vivint Solar is a leading full-service residential solar provider in the United States. With Vivint Solar, customers can power their homes with clean, renewable energy. Offering integrated residential solar solutions for the entire customer lifecycle, Vivint Solar designs and installs the solar energy systems for its customers, and offers monitoring and maintenance services. In addition to being able to purchase a solar energy system outright, customers may benefit from Vivint Solar's affordable, flexible financing options, power purchase agreements, or lease agreements, where available. Through an exclusive collaboration, Vivint Solar also offers solar plus storage systems with Mercedes-Benz Energy home batteries. For more information, visit www.vivintsolar.com or follow @VivintSolar on Twitter.
Featured Product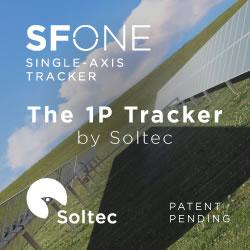 SFOne is the 1P single-axis tracker by Soltec. This tracker combines the mechanical simplicity with the extraordinary expertise of Soltec for more than 18 years. Specially designed for larger 72 an 78 cell modules, this tracker is self-powered thanks to its dedicated module, which results into a lower cost-operational power supply. The SFOne has a 5% less piles than standard competitor, what reduces a 75% the labor time.