The 38th Amateur Photo Contest winners will be on display at the GRC Annual Meeting in Salt Lake City, Utah, USA.
The Geothermal Resources Council (GRC) is pleased to announce the winners of this year's Amateur Geothermal Photo Contest. The purpose of the contest is to showcase quality photography featuring geothermal energy around the world.

1st Place: Northern lights over a well protection dome in Hellisheidi and the Nesjavellir power plant - Bastien Poux, Pontoise, France.
2nd Place: The Geothermal Cloud - Victor Hernan Abarca Gonzalez, Berlin, Germany.
3rd Place: Hells Kitchen 2 - Darrell Cornett, El Centro, California, USA.
All the entries can be seen on the GRC Flicker website at www.flickr.com/photos/geothermalresourcescouncil/ and will be showcased at the GRC Annual Meeting & GEA GeoExpo+ being held at the Salt Palace Convention Center, Salt Lake City, Utah, USA from October 1 -4.
The winners will be presented with prizes at the GRC Annual Meeting. The theme for this year's meeting is Geothermal Energy: The Power to Do More.
For more information about the GRC Annual Meeting, visit www.geothermal.org or call (530) 758-2360.
###
About the Geothermal Resources Council:
With the experience and dedication of its diverse, international membership bolstering a more than 45-year track record, the Geothermal Resources Council has built a solid reputation as one of the world's preeminent geothermal associations. The GRC serves as a focal point for continuing professional development for its members through its outreach, information transfer and education services.
For more information, please visit www.geothermal.org.
Get your daily geothermal news at Global Geothermal News [globalgeothermalnews.com]. Become a fan on Facebook [www.facebook.com/GeothermalResourcesCouncil]. Follow GRC on Twitter [#GRCAM2017 & @GRC2001]. Check out GRC's YouTube Channel [www.youtube.com/GeothermalCouncil]. See geothermal photos on GRC's Flicker page. [www.flickr.com/photos/geothermalresourcescouncil]
###
Featured Product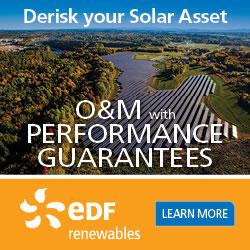 EDF Renewables offers the same innovative solutions that maximize the performance of our own 5.2 GW of installed projects. Because we're not an equipment manufacturer, our recommendations are transparent and data-driven. We cover the entire project lifecycle: from pre-commissioning support, through warranty and post warranty operation, to late stage and decommissioning.