The global electric motor market is looking up as favourable economic conditions, a recovery in machinery production, and a focus on premium efficiency designs provide a much-needed boost to the industry.
According to IHS Markit, a longstanding contributor to CWIEME exhibitions around the world, global economic growth is expected to increase from 2.5% in 2016 to 2.9% in 2017. In a seminar at the recent CWIEME Berlin exhibition, IHS senior analyst Andrew Orbinson revealed how the US economy, in particular, is set to accelerate as capital spending growth resumes, corporate and personal income tax rates decrease in 2018, and the US dollar strengthens against most other currencies in early 2018. This growth signals good news for participants at CWIEME Chicago, North Americas leading exhibition for coil winding, transformer and electric motor manufacturing, to be held at the D.E Stephens Convention Center in Rosemont, Il. October 3-5.

Elsewhere, the outlook is less assured with continued economic uncertainty in Europe. IHS does not anticipate Brexit to restrain UK growth but political instability and banking problems are risks to both UK and Eurozone growth. In Western Europe, interest rates are expected to remain low as governments and central banks look to boost the economy. Chinas economic slowdown is set to continue despite increased commodity prices due to imbalances in credit, housing, and industrial markets. Russia and Brazil will begin to recover in 2017.
Recovery in machinery production
Following the decline in machinery production between 2015 and 2016, IHS anticipates a slow recovery between 2017 and 2021. Machinery production growth is predicted to reach 3.9% in 2021 in the US and 4% in the Americas as a whole. This compares to 2.4% in Germany and 2.5% in Europe, as well as 7.5% in China and 6% in Asia Pacific. Germany and China are slightly ahead of the curve, registering growth in 2016 but all major markets are forecast to increase.
According to IHS data, a total of 39.8 million electric motors are expected to be shipped in 2017, with ABB, Siemens and WEG claiming the top three spots as the worlds leading suppliers. Asia is set to account for 42% of electric motor revenue, while EMEA (Europe, Middle East, and Africa) takes 31% and the Americas 27%. Between 2016 and 2021, revenue is expected to achieve a compound annual growth rate (GAGR) of 3.0% in Asia, 1.7% in the Americas, and 1.6% in EMEA. These figures show a significantly better picture than in 2016.
Higher average selling prices
Prices for electric motors are predicted to remain competitive as regional players develop their efficiency capabilities over the coming years. IHS reports that prices for electric motors in the IE3 efficiency class are 20% higher than for IE2 motors, and as the higher-priced premium-efficiency IE3 motors become more prevalent, average selling prices will increase. IHS also anticipates that as steel prices see a return to growth in late 2017, motor manufacturers will pass higher supply chain costs onto their customers. This is likely to have a long-term impact on pricing.
No restriction on global IE2 market
The US was the first market to introduce a requirement for IE3 efficiency level motors in 2011. In 2015, the European Union passed legislation that 2.5kW-375kW electric motors must reach IE2 if they have a variable frequency drive; otherwise, they must reach IE3. In 2017, this requirement was extended to electric motors in the 0.75kW-7.5kW category. By 2020, the EU plans to require IE3 efficiency for all motors in its Lot #30 Proposal. IHS does not expect US and EU requirements for IE3 efficiency class motors to restrict the global IE2 motor market before 2020, however, as the majority of regions still accept IE2 motors.
In 2016, IE2 motors accounted for 35% of the global low-voltage motors market. By 2021, IHS predicts this share to grow to 43%. IE1 motors, meanwhile, are gradually being phased out due to the increased focus on efficiency in Western Europe, North America, and China. Shipments of IE1 motors reduced significantly between 2014 and 2016 from 44% of the total market to 38%. By 2021, this share is expected to drop further to 24%. The fastest growing class is IE4, which is predicted to grow from less than 1% in 2016 to 2% in 2021. The small starting point means that it is set to grow at a much quicker pace.
Transition from DC brushed to DC brushless motors
When it comes to motor type, IHS expects DC brushless motors to overtake DC brushless motors as the most common design over the next five years. DC brushed motors currently account for 46.2% of the global electric motor market, while DC brushless motors account for 44.8%. Between 2016 and 2021, DC brushed motors are expected to achieve a CAGR of 2.7% but DC brushless motors are predicted to grow by 5.4%. This transition trend is primarily observed in powertrain, chassis, and airflow applications. For example, electric power steering (EPS) has replaced hydraulic power steering in many new vehicles due to the fuel economy adavantage. Brushed DC motors are still the preferred type, however, for inexpensive, reliable applications, such as power seating and power locks, although some motor suppliers are collaboring with OEMs to develop DC brushless motors for these applications as well.
The market for stepper motors - currently 7.1% of the total - is also set to grow at a CAGR of 4.5% by 2021, while the biggest growth category is set to be traction motors, again because of their low starting percent of 2.0% global market share. These motors are expected to achieve a CAGR of 43.1% 2016-2021.
"The anticipated growth in the global electric motor market spells excellent news for members of the coil winding and electric motor manufacturing community - both in selling more products and commanding a higher price for them," says Haf Cennydd, CWIEME portfolio director. "At CWIEME, we are committed to supporting this growth by faciliting the right business connections and sharing the knowledge that drives positive change. We look forward to welcoming visitors to our next show, CWIEME Chicago, for more in-depth market discussions this October."
The above insights were shared by Andrew Orbinson, a senior analyst at IHS Industrial Automation, during a seminar at CWIEME Berlin on June 20, 2017. First held in 1996, CWIEME is the worlds largest and longest running exhibition for materials, equipment, components, machinery and services for the manufacture of transformers, electric motors, generators and other electrical devices. It provides a range of networking opportunities, as well as an outstanding program of free-to-attend seminars and workshops. Visitors attend to meet new and existing business contacts - and keep up to date with all the latest industry trends and developments. Each year, shows are held in four locations around the globe - Berlin, Shanghai, Chicago and Istanbul. The next exhibition in the CWIEME calendar is CWIEME Chicago, which will be held October 3-5 at the Donald E. Stephens Convention Center in Rosemont, Illinois.
Featured Product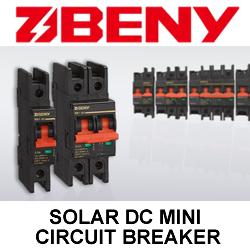 The BB1-63 modular miniature circuit-breakers can be used in solar DC circuits up to 1200 VDC (4-poles execution). Application in solar DC circuits, battery energy storage systems and UPS. Arc flash barrier design keeps solar equipment more safe and reliable. For DC circuit over-current protection.