JinkoSolar's record-breaking multi-crystalline silicon solar cell was manufactured on a high quality boron doped mc-Si substrate.
SHANGHAI, Oct. 2, 2017 /PRNewswire/ -- JinkoSolar Holding Co., Ltd. (NYSE: JKS) (the "Company," or "JinkoSolar"), a global leader in the solar PV industry, today announced that its practical sized (245.83cm2) P-type multi-crystalline silicon solar cells reached the world's highest conversion efficiency of 22.04%. It is the second time that JinkoSolar has broken this world record since October 2016.

JinkoSolar's record-breaking multi-crystalline silicon solar cell was manufactured on a high quality boron doped mc-Si substrate. Advanced texturing, passivation and anti-LID technologies were integrated into the passivated emitter rear contact (PERC) structure to achieve the new 22.04% world record. The new world record was independently confirmed by Fraunhofer ISE Germany and broke JinkoSolar's previous record of 21.63% one year ago.
"This is the first time that conversion efficiency for P-type mc-Si PERC cells exceeded the 22% efficiency mark which I believe will serve as a guideline developing higher efficiency products," commented by Dr. Jin Hao, Vice President of JinkoSolar. "The entire manufacturing chain is comprised of low-cost industrial processes and will be gradually transferred into mass production. Leveraging our high-efficiency solar cells, we will continue to develop advanced manufacturing techniques to reduce the cost of PV products."
About JinkoSolar Holding Co., Ltd.
JinkoSolar (NYSE: JKS) is a global leader in the solar industry. JinkoSolar distributes its solar products and sells its solutions and services to a diversified international utility, commercial, and residential customer base in China, the United States, Japan, Germany, the United Kingdom, Chile, South Africa, India, Mexico, Brazil, the United Arab Emirates, Italy, Spain, France, Belgium, and other countries and regions. JinkoSolar has built a vertically integrated solar product value chain, with an integrated annual capacity of 6.0 GW for silicon ingots and wafers, 4.5 GW for solar cells, and 7.5 GW for solar modules, as of June 30, 2017.
JinkoSolar has over 15,000 employees across its 8 production facilities in China (5), Malaysia, Portugal, and South Africa; 16 overseas subsidiaries in Japan (2), Singapore, India, Turkey, Germany, Italy, Switzerland, United States, Canada, Mexico, Brazil, Chile, Australia, South Africa and United Arab Emirates; and 18 global sales offices in China (2), United Kingdom, Bulgaria, Greece, Romania, United Arab Emirates, Jordan, Saudi Arabia, Kuwait, Egypt, Morocco, Ghana, Kenya, Costa Rica, Colombia, Brazil, and Mexico.
To find out more, please see: www.jinkosolar.com
Featured Product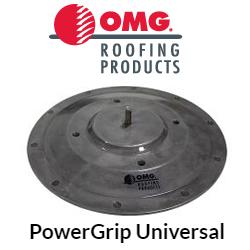 PowerGrip Plus Roof Mount System, a watertight structural attachment system used to secure ballasted solar racks and other equipment to roofs covered with thermoplastic (TPO and PVC) membranes. PowerGrip Plus is designed with wind performance in mind and offers ultimate tensile strength of 2,000 lbf. and ultimate shear strength of 1,075 lbf. Properly installed PowerGrip Plus units reduce rack movement and remaining watertight. PowerGrip Plus units are easy to install, saving both time and labor when compared to alternative options. A wide membrane skirt promotes easy welding in place, and the 15/8 diameter and 1/2 inch tall mount provides an optimal perch for securing brackets or struts. The exposed 1 inch tall and 3/8 inch diameter bolt and mounting stand are made from corrosion-resistant stainless steel and aluminum alloy for superior long-term performance.