New Premium Installers to receive exclusive partnership benefits to help develop their businesses
Newark, NJ (October 5, 2017) — Panasonic Corporation of North America today announced the expansion of its Solar Installer program, with three authorized installers of HIT® solar modules being promoted to the exclusive "Premium Installer" status. Panasonic unveiled this program last year to provide a number of value-added benefits and business opportunities to partners who are able to meet Panasonic's high standard of excellence. Earlier this year, Panasonic announced the inaugural class of Premium Installers - nine in total - who cover both the East and West Coasts.

Panasonic's Solar Installer program is comprised of "Authorized" and "Premium" installers. Premium installers are those companies that have completed a minimum requirement of HIT® module installations and have met an annual wattage target. These installers promote Panasonic as their primary brand of solar modules, and they receive a range of benefits from Panasonic to enhance their offerings to customers.
Premium installers will be part of continuous efforts with Panasonic to promote the HIT® brand among the installers' area of operation. They will receive leads generated through Panasonic's website, where the installer will be listed as premium. Premium installers are also the beneficiary of cooperative marketing funds provided by Panasonic, at twice the level of funds provided for Authorized Installers, to help grow their business and attract even more customers.
"We're pleased to see our Solar Installer program thriving with the promotion of three new Premium Installers, for a total of twelve, in just a few short months," said Mukesh Sethi, Group Manager of the Solar Division of Panasonic Eco Solutions North America. "The strength of our relationships with valued partners such as these and our reputation as a leader in Sustainable Energy will continue to fuel Panasonic's growth within the North American residential solar market. We look forward to working with these Companies for years to come, offering our customers the superior products and quality customer service they've come to expect from us."
The newest Panasonic HIT® Premium Installers are:
• Solar Service Inc., Niles, IL
• Arch Electric, Plymouth, WI
• HE Solar, Buda, TX
As the Solar Installer program continues to expand, Panasonic will aim to bring industry leading companies into these mutually beneficial relationships.
# # #
About Panasonic Corporation of North America
Newark, NJ-based Panasonic Corporation of North America is a leading technology partner to businesses, government agencies and consumers across the region. The company is the principal North American subsidiary of Osaka, Japan-based Panasonic Corporation, and leverages its strengths in immersive entertainment, sustainable energy, automated supply chains and connected mobility to provide integrated solutions for B2B customers. Panasonic was featured in Fortune Magazine's 2016 ranking of 50 companies that are changing the world and doing well by doing good. Specifically cited were its smart and sustainable technologies, including its contributions to smart cities and the electric vehicle revolution. Learn more about Panasonic's ideas and innovations at www.PanasonicMovesUs.com.
Featured Product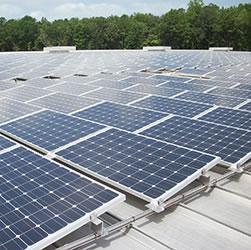 The Power Rail™ Commercial Mounting System is designed with the professional PV solar installer in mind. Both the XD/UD and LD/MD rails feature single tool assembly with the revolutionary patented RAD™ Lock-in-Place bolt for fast and secure module clamping. The high strength marine-grade aluminum rails include an integral wiring channel for securing cables and providing a professional finish.