Facility to create over 100 jobs in 2018
JOPLIN, Mo. - October 5, 2017 - ZAF Energy Systems Inc. (ZAF), a developer of next-generation battery technology, announced today the opening of a new production facility in Joplin, Missouri, that is dedicated to manufacturing its initial line of rechargeable nickel zinc (NiZn) batteries. The new facility will dramatically expand ZAFs current production capacity and is expected to bring over 100 jobs to Joplin.

"We're fighting for more jobs and higher pay in Missouri and companies like ZAF Energy Systems are stepping up. They're creating 100 quality jobs at their new manufacturing plant in Joplin," said Governor Eric Greitens. "We're getting results. Companies are recognizing that Missouri is open for business, and Missourians are ready to work. This is a great opportunity for families in Joplin."
After a series of successful third-party test results by industry-leading companies in commercial trucking, manufacturing, and road construction, ZAF is expanding its production capacity to rapidly "seed the market" and drive demand for its nickel zinc battery as a replacement for lead-acid batteries in key market segments. The additional production capability will enable the company to meet growing customer demand which will accelerate licensing and joint venture negotiations and commercialize NiZn batteries on a global scale. ZAFs NiZn batteries have potential uses in a wide range of applications including: automotive, heavy trucking, remote telecom, renewable energy, and marine.
"We just werent able to keep up with the demand with the capacity we had in Montana," said ZAF President and CEO Randy Moore. "The new production facility in Joplin will drastically scale up production to several thousand batteries per month, enabling us to keep pace with growing demand while also refining manufacturing processes and accelerating development efforts. The end result will be a turnkey engineering package we can deliver to manufacturers with customer demand already built into the equation."
Montana will continue to serve as ZAFs research and development hub. ZAF will begin staffing the new facility by transferring five current employees from its Montana location and then hiring 20 new employees to work alongside them by the end of 2017. The facilitys workforce is expected to grow to more than 100 workers. ZAF will be holding an open house for the Joplin community on October 18, 2017.
"We are excited that ZAF Energy Systems has selected Joplin to expand their operations," said Mike Seibert, mayor of Joplin. "Having worked with their CEO Randy Moore for nearly a decade, I have a high level of confidence that ZAF will provide the quality jobs we are looking for in our community."
NiZn batteries are poised to disrupt the $50 billion conventional lead-acid battery market with their ability to provide twice the storage capacity and three times the power of legacy lead-acid batteries in a smaller, lighter package. They provide a powerful and affordable alternative to their lead-acid counterparts while generating a lower environmental impact.
###
About ZAF Energy Systems, Inc.
Incorporated in 2011 and with locations in northwestern Montana and southwest Missouri, ZAF Energy Systems develops and commercializes next-generation battery technologies that use sustainable, non toxic materials and can be safely and easily recycled. Its breakthrough battery technologies include a nickel zinc (NiZn) chemistry and a zinc air chemistry, both of which deliver the highest power and energy density of any battery system in their class. ZAFs rechargeable batteries provide long-life and economical solutions in a safe package for a variety of applications, including: electric vehicles, commercial trucking, renewables integration, back-up power, consumer electronics, mobility, and recreation vehicles. For more information, visit: www.zafsys.com
Press Contact:
Wendy Prabhu
Mercom Communications, a division of Mercom Capital Group
1-512-215-4452
zaf@mercomcapital.com
ZAF Contact:
1-406-892-1144
daw@zafsys.com
Featured Product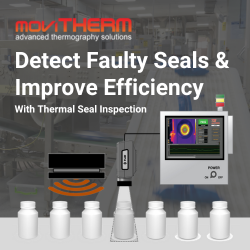 MoviTHERM's Thermal Seal Inspection (TSI) solution provides precise and reliable detection of defects in a variety of packaging types, including pouches, bags, blister packs, bottle caps, and more. By detecting defects in your packages, the TSI solution helps increase efficiency in your production line and ensures top-quality packaging is delivered to your customers every time. With state-of-the-art technology and an experienced team, MoviTHERM is dedicated to delivering accurate inspection solutions and peace of mind to its clients. Contact MoviTHERM today to learn more about their thermal seal inspection solution.