From the overall 220 MW being available for allotment, Clenergy has secured itself the right to construct 134 MW with a Government backed FIT of 0.489 eurocent/kWh.
MES Solar XXXII GmbH & CO. KG, a wholly owned subsidiary of Clenergy, has participated in the October auction for large scale German solar plants held by the German Federal State, and had executed an acquisition of two projects prior to the auction with a total of 134 MW (65 MW plus 69 MW) from a well-known German developer.

The tender was again several times oversubscribed. A total of 110 bids with a total volume of 754 MW were submitted to the Federal Network Agency. The average bid size was 6.9 MW. A total of 20 solar projects with a total capacity of 222 MW were finally awarded in the tender. So with the successful bid by Clenergy, a 60% share of the tender was achieved.
The lowest successful bid was €0.0429/kWh, while the highest was only €0.0506/kWh. Both Clenergy's projects were successful in the tender with a bid of €0, 0489/kWh. The projects are located in Mecklenburg-Vorpommern and are estimated to be completed through-out 2018. Now, pre-planning for the construction is initiated. Rasmus Friis, CEO of Clenergy Global Projects based in Hamburg, said that these projects present robust investment opportunities for large infrastructure funds seeking low risk long duration cash flows, Rasmus Friis added, that especially large scale systems can be built with significant large scale effects enabling the reach of grid parity.
"Giving us the right to execute more than 60% of the entire projects awarded through the auction is a remarkable result, which propels the success of our company even further after the successful IPO in January 2017." said Daniel Hong, CEO of Clenergy. "This will surely establish our market present in Germany and globally in a big way."Daniel Hong added.
About Clenergy:
Clenergy is a high-tech company which specializes in solar power station solutions and ancillary products. It successfully listed on Shanghai Stock Exchange (stock code: SHA 603628) on 12th Jan., 2017.
Clenergy was founded in 2007, headquartered in Xiamen. It has developed four domestic branches in Beijing, Shanghai, Hong Kong and Xi'an, with two manufacture bases in Xiamen and Tianjin respectively. Clenergy also expands into Australia, Germany, UK, Japan, Thailand and The Philippines and built cooperation network all over the world. Clenergy focuses on three major businesses-- Clean Energy Investment, Solar Project Development &Investment and Solar Products.
Adhering to the ideology of "Innovation, Quality, Service", Clenergy keeps enhancing its profitability, business performance, sustainability and core competitiveness for building a world-class brand in the area of clean energy, which makes the world better.
Featured Product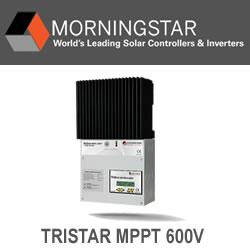 Morningstar's TriStar MPPT 600V charge controller leverages Morningstar's innovative TrakStar™ MPPT technology and our 20+ years of power electronics engineering excellence, to enable the widest input operating voltage range available from a solar array, wind turbine or hydro input. This controller's standard and DB versions are for off-grid applications, and the TR versions were developed to enable retrofitting grid-tied systems with battery backup.