esVolta also enters exclusive long-term procurement arrangement with Powin
TUALATIN, Ore. - December 11, 2017 - Powin Energy Corporation (stock symbol: PWON), a leading manufacturer of fully integrated energy storage solutions, has sold over 110MWh of select project assets and contracted pipeline to esVolta. esVolta recently received a large financial commitment from Blue Sky Alternative Investments LLC to accelerate its growth in the North American utility-scale energy storage market. Powin Energy will be esVoltas exclusive provider of energy storage systems through 2022.

"Powin Energys business plan has long had the vision of transitioning the company out of the project development business and into being a fully dedicated energy storage systems and services provider," said Geoffrey Brown, President of Powin Energy. "This transaction is the realization of that plan and will enable the company to focus all of its efforts on delivering the best energy storage systems in the industry to our developer and utility customers. esVolta and Blue Skys commitment to developing energy storage projects with Powin Energys products is strong validation of our technology and the top-tier team weve assembled."
Following are the primary projects included in the transaction:
• PPA Grand Johanna is a 2 MW/9 MWh system in Irvine, California, that has been operational since the beginning of 2017 in response to the Aliso Canyon gas leak and is contracted with Southern California Edison (SCE).
• Don Lee BESS is a 6.5 MW/26 MWh project that will be located in a historic orange processing facility in Escondido, California. The development-stage project is under contract with San Diego Gas & Electric (SDG&E).
• Upon its commercial operation, a 50% stake in Powin Energy Ontario Storage, an 8.8 MW/40.8 MWh system in Stratford, Ontario, that is under contract with Ontario IESO. The system is expected to go online by the end of 2017 and it will be the largest battery storage facility in Canada.
• A 10 MW/40 MWh project that will be publicly announced at a later date.
Powins Stack products are modular, purpose-built DC strings ranging in size from 106 kWh to 175 kWh that easily and cost-effectively scale from kilowatt to megawatt applications. It is available in both indoor and outdoor models, each of which is engineered to maximize energy density and minimize system footprint. All Stack products are operated by Powins proprietary bp-OS software that is patented in both the United States and China. Powins supply chain expertise, modular design, and software proficiency streamline installation and bring world class innovation to energy storage applications.
About Powin Energy Corporation
Powin Energys (stock symbol: PWON) sole focus is creating and deploying the next wave of safe and scalable battery energy storage that is purpose-built for the demands of utility-scale, commercial and industrial, and microgrid applications. Powins Stack140 modular battery system features a patented Battery Pack Operating System (bp-OS) that provides critical insight into system functions and lifespan via the proprietary Battery Odometer and Warranty Tracker™. Powin was incorporated in Oregon in 1990 and has spent almost three decades perfecting supply chain management. Combined with the management teams decades of successful leadership experience in the energy, storage, and utility industries, Powin Energy is able to deliver exceptional value to large-scale energy projects. For more information, visit http://PowinEnergy.com/. Investors can find real time quotes and market information for the company at http://www.otcmarkets.com/stock/PWON/quote
Forward Looking Statements
This press release contains historical information and forward-looking statements within the meaning of The Private Securities Litigation Reform Act of 1995 with respect to the business, financial condition and results of operations of Powin Corporation and Powin Energy Corporation. The words "will", "believe," "expect," "intend," "plan," "should" and similar expressions are intended to identify forward-looking statements. Such statements reflect the current views, assumptions and expectations of Powin Energy Corporation with respect to future events and are subject to risks and uncertainties. Many factors could cause the actual results, performance or achievements of Powin Energy Corporation to be materially different from any future results, performance or achievements that may be expressed or implied by such forward-looking statements, or financial information, including, among others, the failure to realize the anticipated benefits of the merger; risks entailed in integration, including employee retention and customer acceptance; the risk that the merger will divert management and other resources from the ongoing operations of the business or otherwise disrupt the conduct of the businesses, potential litigation associated with the merger, and general risks associated with the business of Powin Corporation and Powin Energy Corporation, including changes in the markets in which the businesses operate and in general economic and business conditions, loss of key customers, key customer acceptance of new battery storage technology, ability to completely fund operations to meet potential customer orders, changes in government regulation and tax policy, availability of tax credits, changes in carbon reduction requirements imposed on utilities, unpredictable sales cycles, competitive pressures, market acceptance of new products, inability to meet efficiency and cost reduction objectives, changes in business strategy and various other factors, whether referenced or not referenced in this press release. Various other risks and uncertainties may affect Powin Energy Corporation and its results of operations, as described in reports filed by the Powin Energy Corporation with the Securities and Exchange Commission from time to time, including its annual report on Form 10-K for the year ended December 31, 2015. Powin Energy Corporation does not assume any obligation to update these forward-looking statements.
###
Media Contact:
Mercom Communications www.mercomcapital.com
Wendy Prabhu media@powinenergy.com
1.512.215.4452
Featured Product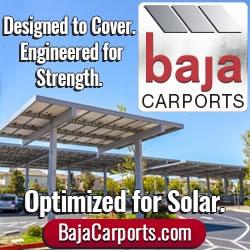 Baja Carports offers an extensive solar support system product line customized to customers' site specifications by in-house engineers, meeting their parking lot coverage, plus optimal PV production needs. Baja's Full Cantilever Tee is often paired with its Semi and Full Cantilever carports to meet live/loads up to 60psf and wind speeds to 160mph. All Baja products are pre-fabricated, bolted connections, pre-galvanized structural steel for fast on-site installation and project aesthetic requirements."